A bedroom should be a sanctuary to escape to at the end of a long day. It needs to be a space you can switch off to the outside world and recharge. For this reason, bedroom design shouldn't be taken lightly.
Many trends come and go regarding bedroom design, from modern and minimalistic to boho chic. However, if you are looking for something timeless and elegant, a classical style with a modern twist is the perfect option for your space.
Modern Wall Panelling
Wall panelling may take a little bit more planning when decorating your bedroom, but its effect is nothing short of luxury and class. This style has become immensely popular and is a wonderful way to add a touch of tradition to an otherwise modern space. The cheapest and easiest way to incorporate this design feature in your bedroom is to find a wallpaper that provides the pattern of panelling without the hassle of installation.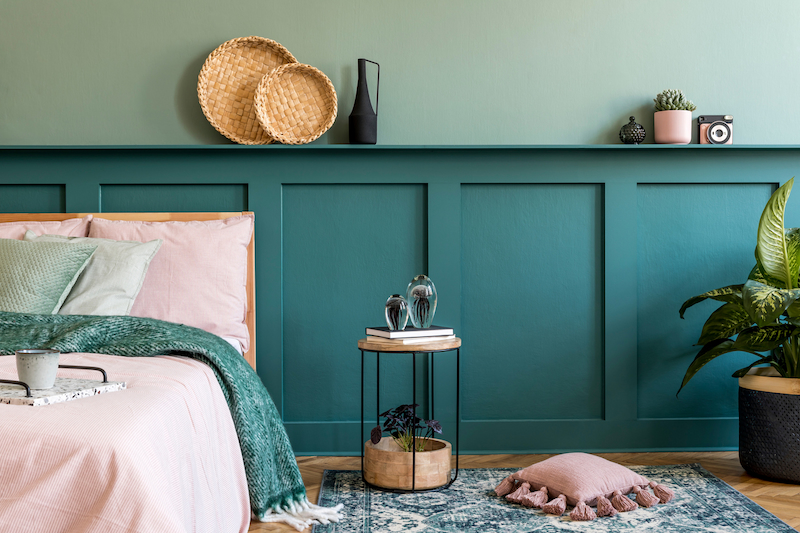 Alternatively, it is straightforward to achieve this style with wood battens. Most homeowners choose only to do one wall in a bedroom to prevent the panelling from taking the focal point away from their beautiful furniture. However, if you have a modest-sized room, using a subtle colour on your panelling could still work perfectly.
Once you have decided on your walls, we advise you to paint the wall with a light colour and pencil where you intend the wooden battens to go. You can choose full-wall panelling or half-wall panelling. Either style will still achieve a classic but modern look, and you could even incorporate a shelf if you choose to panel only half of the wall.
Swing Suavely With a Chandelier
Although the idea of a chandelier may seem outdated in a bedroom, with the right aesthetics, it could work beautifully as a traditional feature. There are a variety of chandeliers to choose from, from simple and classic, to as extravagant as your bedroom can afford to go.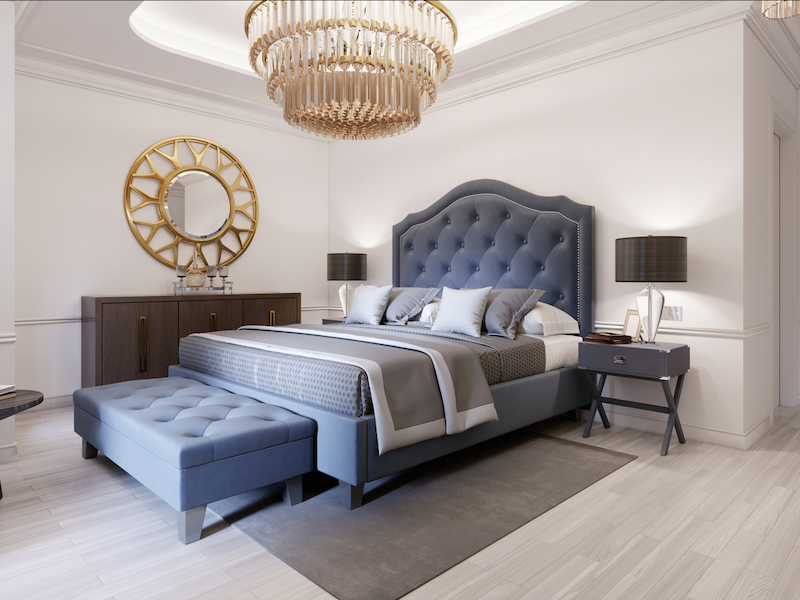 You could keep it simple with a chrome finish and a few stems or add a sense of grandeur to the room with an elegant crystal chandelier with glass pearl chains and chrome-plated rings.
Another lighting feature to consider is the bedside table lamps. Add majestic features to your bedroom with a Victorian-style bedside lamp, frills, and all. Or choose a more subtle look with a contemporary elegant side lamp which matches the room's colour.
Finding the Perfect Furniture
Fitted storage is a great way to add traditional style to a modern bedroom, and our made-to-measure bedroom furniture can offer the perfect bespoke designs to fit any room. Having a timeless storage solution can be an excellent investment for your bedroom.
Having the right amount of storage for your bedroom not only extenuates the room's tone but can reduce the clutter on show. Limiting the on-show personal belongings opens the space up to fit the style you have chosen for the room. It also pairs wonderfully with wall panelling.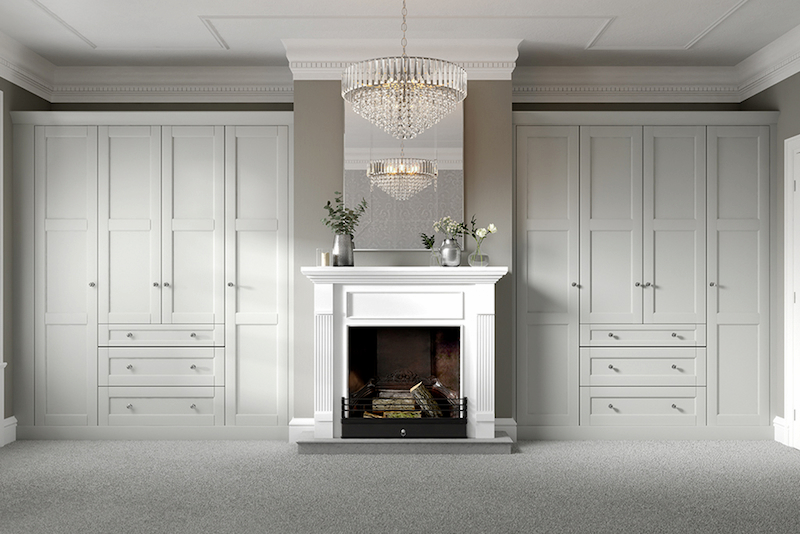 For example, our beautiful range of Laura Ashley fitted bedroom furniture is the perfect way to incorporate classic style with a modern twist. The likes of their Marston range provide contemporary four-panel smooth wardrobe doors that add a sleek finish to your space, with coordinating flat drawer fronts. This mixture of elegance and modernity can be built into a room of any size and shape to fit your needs and is a fantastic way to explore contrasting tones.
Traditional Style Beds and Headboards
Although headboards have been a bedroom feature that has been ignored in previous years, achieving a classical look can depend on this detail. Whether you have a divan or a solid bed frame, the right headboard can make or break the aesthetics you intend for your space.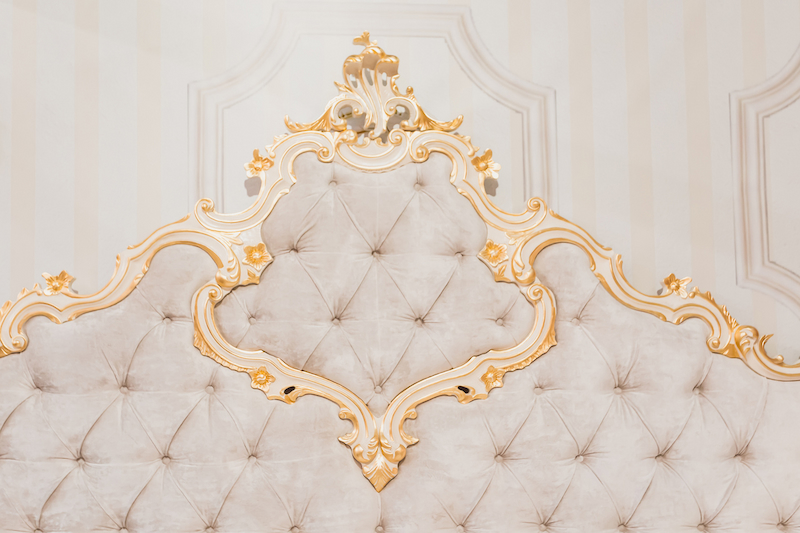 There are many options to choose between, from full wooden headboards with hand-carved details to padded designs if you want to prioritise comfort. If you lean toward the latter option, consider the surrounding frame to achieve a traditional but modern aesthetic, but always be sure to match the frame of your headboard to the frame of your bed for the perfect finish. If you want to achieve a classical tone, we recommend finding an elegant headboard with French chic detail.
Finding Inspiration for a Traditional Style, but Modern Bedroom
Before buying anything, you need to be sure that the style you choose is perfect for you and your home. Spend time online looking for classic and traditional bedrooms. Not every feature will appeal to you but putting together your favourites can help get you onto the right track.
Colour is also an essential factor when looking for inspiration. Most people decorating a traditional bedroom will choose royal colours such as gold, cream, and champagne. However, you can use any colour to achieve a classic look but vary the shades you use. Keeping the same colours helps achieve this beautiful, timeless look with gold or chrome features to tie it all together.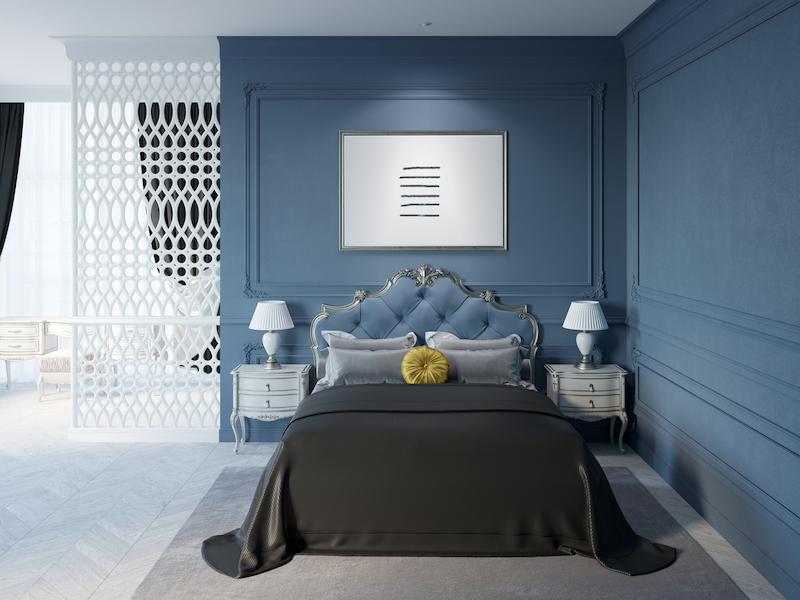 Why not pop into our showroom if you are looking for home improvements in the South Lakes? We have a broad selection of fitted bedroom furniture, which would look perfect if you hope to achieve an opulent and classical style. Alternatively, look at some of our ranges online to get you started. We are sure there is a style to suit everyone.