When it comes to kitchen renovations, it can be challenging to know what you want. However, most homeowners wish to offer a showstopping space with the functionality of an accessible kitchen. The best way to do this is to reduce the visible clutter in your kitchen.
Clutter can reduce the appearance of space and make a room feel a little overbearing and messy. Reducing this can be easily managed through a kitchen renovation and careful design. We help hundreds of homeowners looking for home improvements in the South Lakes, so we know how to create the WOW factor in kitchen design. Today, we are exploring some of the ways you can reduce unnecessary clutter in your kitchen to give your home the best upgrade it can get.
Out of Sight, Out of Mind
Whatever space you have to work with, built-in appliances are the best way to maximise available space in your home. Even though most modern appliances offer sleek designs, hiding unsightly knobs and buttons from appliances like a washing machine behind the stylish cabinet door allows a seamless style to your kitchen. Having straight lines throughout your kitchen elongates the room, and the matching aesthetics can offer a blank canvas appeal to your kitchen. This design can help make your kitchen appear a lot less cluttered.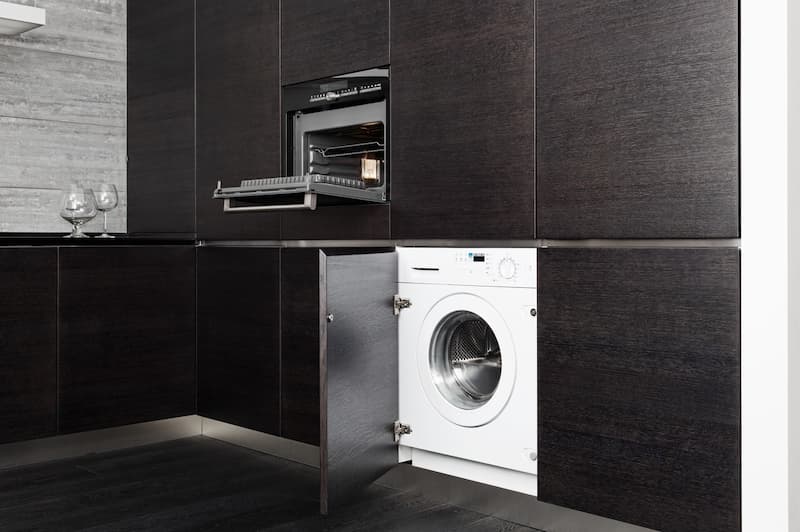 You can provide your kitchen with a great selection of built-in appliances, including washing machines, tumble dryers, dishwashers and even coffee machines. Although you may not think built-in appliances will have much effect on offering a clearer kitchen, if you already have them under your counter, they break the matching designs of your cabinets, making a kitchen look busy. So giving your home an upgrade adds value and provides a much less cluttered kitchen; an excellent benefit of remodelling your home.
Make the Most of Your Kitchen Island
If your kitchen offers a central island, are you truly making the most of the space? You can make the most of your area by utilising what you already have available. From built-in sinks to generous storage space for all your pots and pans. Kitchen islands can also be multifunctional by adding the social element of a breakfast bar. This could free up any room you may be using for dining and offer a matching appearance when pairing it with the same appeal as your kitchen worktops or style.
There are many ways to create a statement island in your kitchen, but the extra space for a multitude of uses will offer numerous benefits to reduce the clutter on show in your kitchen. If you don't have a kitchen island but have the space, we highly recommend installing one as part of a kitchen upgrade.
Customise Your Kitchen to Hide Smaller Appliances
One of the most significant ways to make a kitchen feel cluttered is the many smaller appliances on top of your worktop. Whether it's a kettle, a microwave or a coffee machine, each item can make, especially smaller kitchens, feel chaotic. So, if you are looking for the best way to minimise this, why not design a kitchen built around your daily needs? For example, you could offer your kitchen an appliance garage.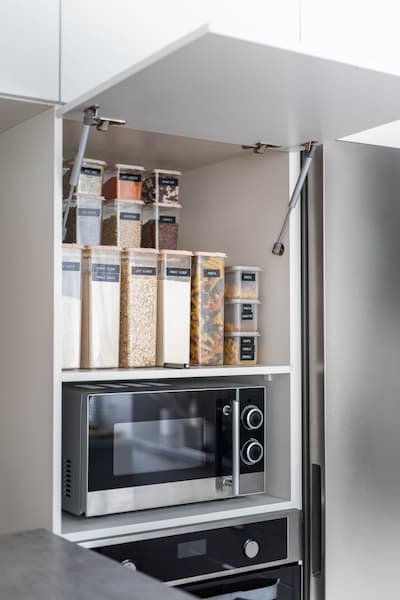 An appliance garage comes in various forms, like your garage door. They can come in the form of roller shutters for a more industrial chic appearance or a door on a lifting swing joint. They are readily available when you require the use of the facilities and then close again to hide the likes of kettles, toasters and more. They can be designed how you would best use them and are a great way to minimise what you have on show in your kitchen. This feature further helps the straight line sleek appearance of minimalistic aesthetics.
As a leader in providing bespoke kitchens in Cumbria, we understand the importance of having a kitchen designed around what your home needs. Although floor-to-ceiling fitted cupboards may suit one home, they may be rendered useless for another. Working with experts, redesign your kitchen for a place to put everything you need to reduce the countertop clutter. For example, we work with the boiling water tap supplier Quooker. This innovative creation can be installed in any kitchen and provides instant boiling water, minimising the need for a kettle and can offer significant benefits to a clear kitchen worktop. Simple swaps can help free up your space and create a minimalistic and functional kitchen.
Build a Pantry for Your Home
A pantry is an excellent way of keeping everything together in an accessible space. From your herbs and spices to your fruit and veg, you can keep everything hidden out of the way with the help of a kitchen pantry, and they are great for those who love to stay organised. Pantries offer the perfect space to home all your essential kitchen ingredients and food without struggling to remember which wall-mounted unit they are in.
Although many homes use walk-in cupboards often found in the kitchen, if your home doesn't have one, that shouldn't mean you miss out. For example, our Laura Ashley kitchens offer stunning pantries that can be installed as part of your kitchen renovations. They suit various needs and can be customised how you will use them best with roll-out shelves and smaller shelves for your collection of spices.
Lighting and Colour Schemes
One of the simplest ways to offer a less chaotic space in your kitchen is by using light colours and textures. Although your light fitting may be practical for your kitchen in providing the necessary light, does it offer a sleek appearance and match the design of your space? If not, then you should consider swapping to the likes of LED spotlights. These individual lights can fit flush into your ceiling and kickboards without hanging lamps which collect dust and grease. LED spotlights have become a firm favourite for many households looking to provide their kitchen with a modern and minimalistic appearance. Alternatively, you could make use of strip light LEDs. These can be installed along the top and bottom of your cabinets and provide excellent light for worktops while offering the same stylish design as an LED spotlight.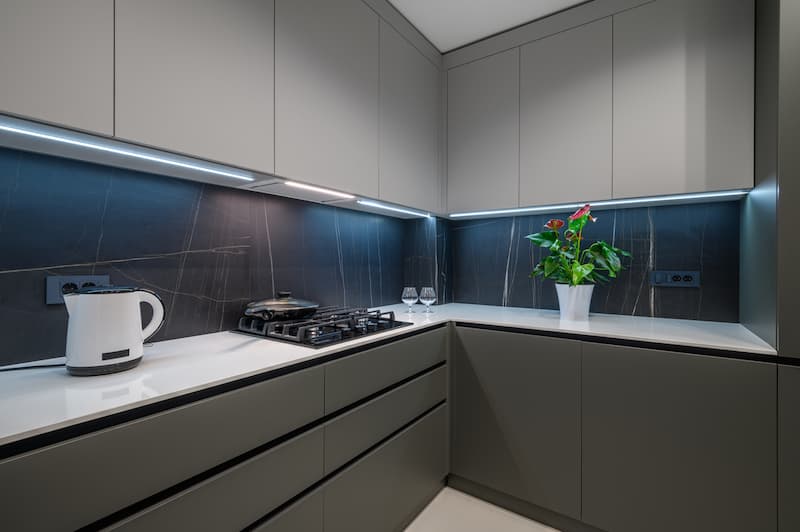 If you are considering redesigning a colour scheme for your kitchen to offer a less cluttered appearance, then we advise you stick with clock colours or subtle textures. Bold prints or various textures in the same room can increase the space's unruly feel and make the room much smaller. However, you can still add pattern and uniqueness without being too overbearing by using subtle textures.
When choosing a colour for your kitchen, there are many ways you can do this to reduce the business of a room.
Contrast. Using white, you could afford to pick a bolder colour to contrast it without feeling over-disarranged. For example, many homeowners choose white and black to offer a minimalistic and modern design for their kitchen, which works beautifully.
Stick with neutrals. If you are unsure about bold colours, a safer option is to stick with neutral colours such as beige, pale greys and creams. These can help maximise the appearance of space, which will help to make a room less claustrophobic.
Subtle patterns. If patterns are something you don't wish to let go of, choose one which is much more subtle. Patterns can add depth and creativity to your wall, but they may feel a little busy if overused. Subtlety is key when choosing patterns.
Get Help with Your Kitchen Design
When it comes to designing your new kitchen, it may often feel very overwhelming. However, we can help. With many years of expertise and an incredible team of staff, we can help take you from the design stage through to the finishing touches to make sure that you are getting the kitchen you have always dreamed of. We specialise in only excellent quality, so we ensure that whatever materials and brands we work with will provide a kitchen that will last. Speak to our team today about getting started on your kitchen designs to provide a clear and clutter-free kitchen and start the new year off with clarity for your home.