You don't have to have a huge kitchen or a lot of money to have a nice kitchen, but you might have to be a little smarter about how you design your space. In this blog, we're sharing some of our expertise in kitchen designing to help you make the most of the space you have by embracing minimalism and working with stylish and functional space savers.
The Benefits of a Small Kitchen
Before we start to talk about how to style your tiny kitchen, we need to talk about the often eschewed benefits of owning one – you're going to have this kitchen for years to come so it's best learning to love it if you want to make the most of it.
One advantage to owning a small kitchen is that every item is always in reach, so cooking your meals should be faster and simpler than in a large kitchen. Smaller spaces also teach us to appreciate what we have; there is no room for waste in a tiny kitchen, helping you to decide on which of your gadgets are useful cooking tools, and which are just clutter in disguise.
Lastly, decorating a smaller space is always going to be cheaper per room, meaning that you will have more money to spend per meter than if you were redesigning a large kitchen. This money can be expertly used in purchasing fantastic space saving drawers and vertical solutions as well as ensuring that your kitchen is perfectly colour co-ordinated.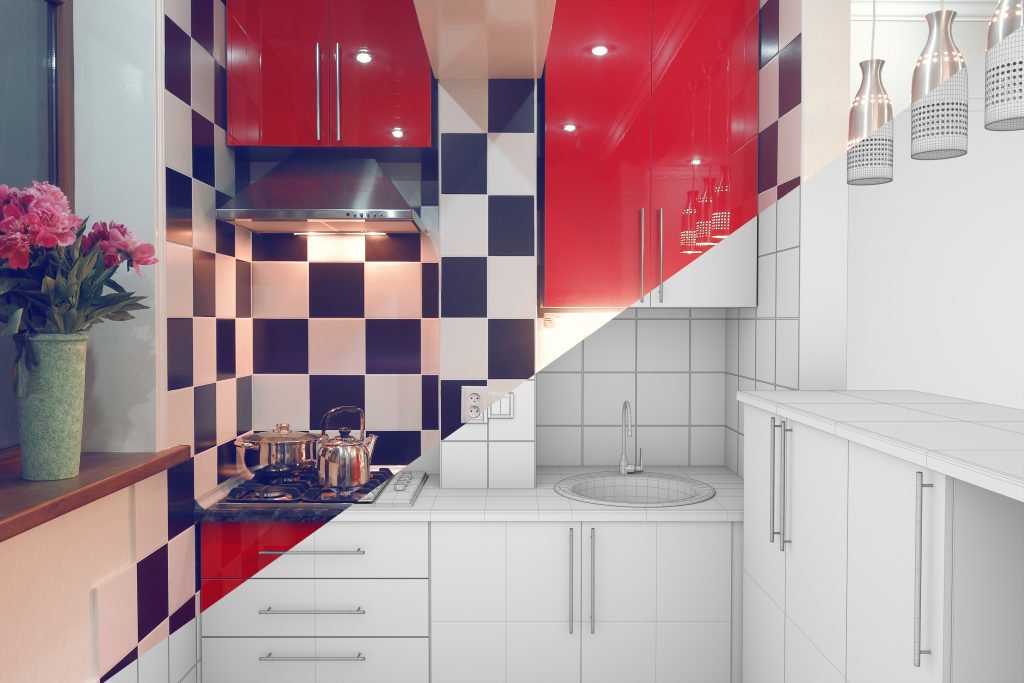 Maximise Light
If you don't enjoy spending time in your tiny kitchen, you should start by increasing the amount of light available to your room.
A small kitchen can be perfectly functional and beautifully designed, but you are unlikely to appreciate it if it's too dark and dingy. Remember; not enough light will make your kitchen seem smaller than it really is and could quickly start to feel claustrophobic.
We recommend making the most of natural light where possible – sustainability should always be considered in modern home design – which means focusing on bright and neutral colours with glossy surfaces. Lighter surfaces and glossy finishes reflect more light than matte or dark shades, so they are perfect for tiny kitchens.
If you were hoping to use some rich jewel tones in your tiny kitchen, then you will may need to consider investing in some great lighting to ensure that you are never cooking in dim conditions.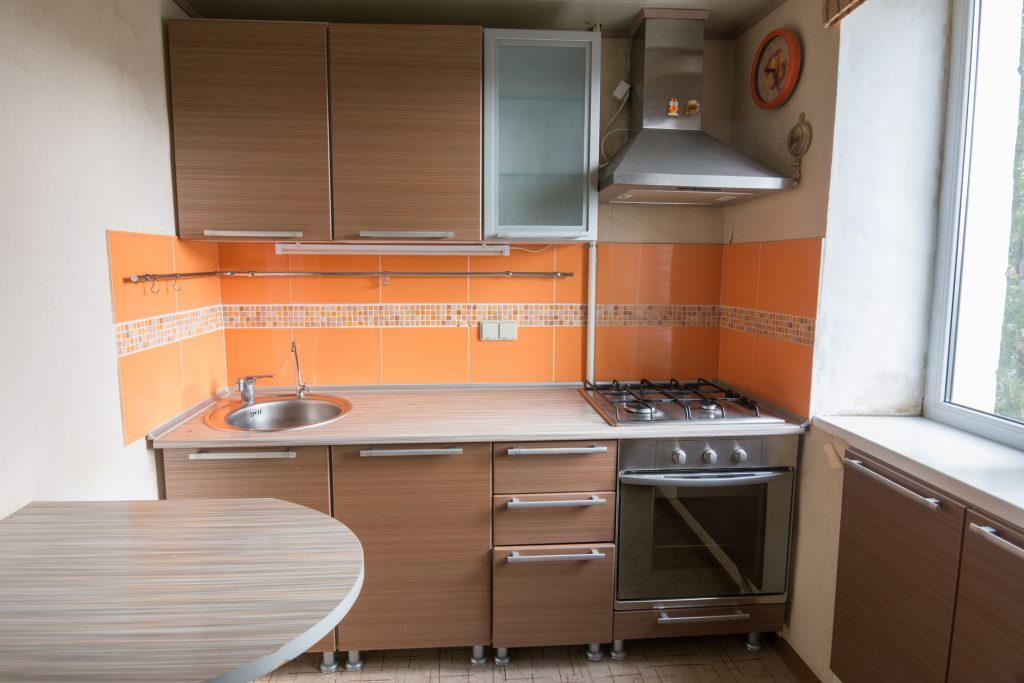 Large Format Tiles
If you're loathe to love your tiny kitchen, despite our discussion of their many benefits, then you can create the illusion of a bigger kitchen by doing two things: firstly, you can reduce the number of appliances you are using to free up some counter space. Secondly, you can use large format tiles.
Using small tiles in small spaces cuts the space up into even smaller fragments and can start to feel a bit close, but when you use large format tiles you put an end to the maze of grout lines and instead, you allow the space to open up and breath. Combining a pale glossy large format tile with brighter lights can be a magnificent way to immediately improve the general feeling of your kitchen.
Inspiration for Your Tiny Kitchen
In this section, we give you some inspiration for ways to revolutionise your own kitchen:
Colour Schemes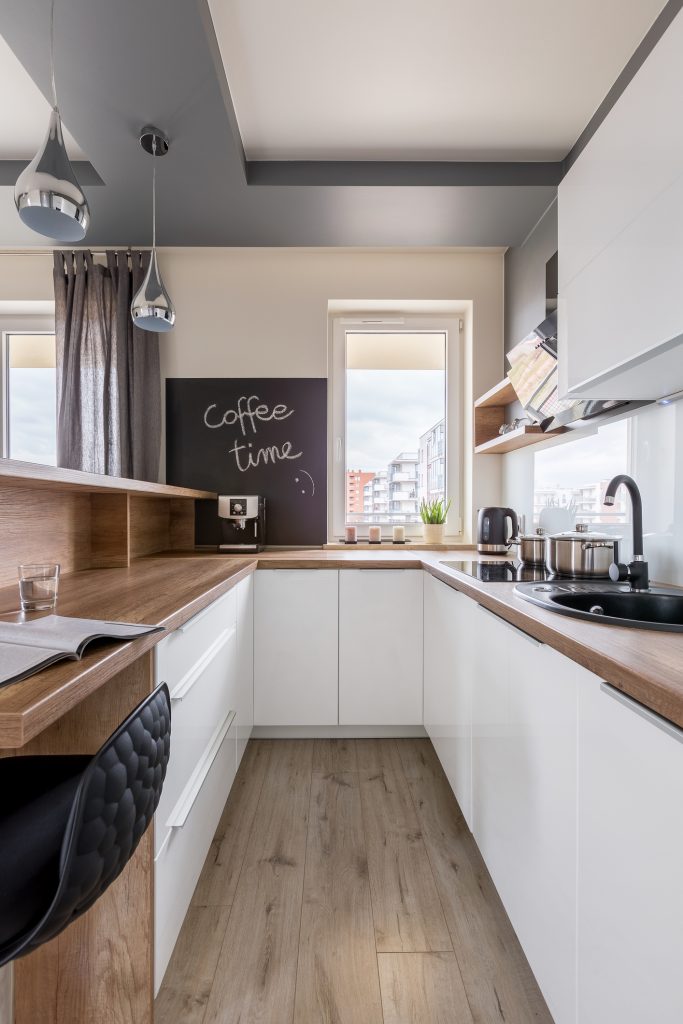 This kitchen might be narrow, but it's neutral colour scheme and bright reflective cabinets encourage the natural light streaming through the large window to reflect around the room, ensuring that few places are left in dismal shade. The counter tops might be narrow, but the u-shape allows for enough space for two people to prepare food back to back.
Great Storage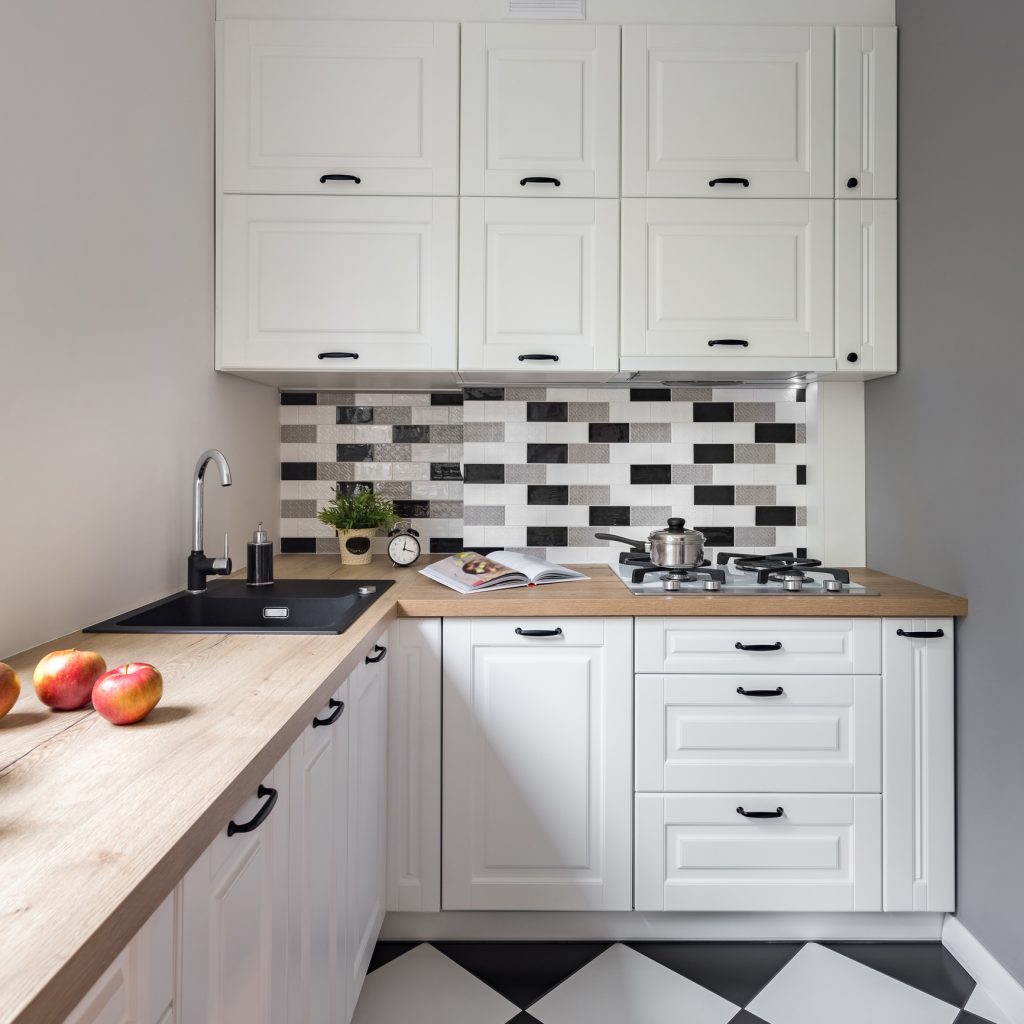 We suspect that this kitchen is larger than it looks, but this image does teach us a lot about making the most of your upper cabinet space. Admittedly, this style may be more suited to taller individuals, but when your storage space comes at a premium, we know that you'll prefer having the space than not at all – even if it is a little hard to reach without a stool.
One thing that we would consider for this kitchen, is that there may be some storage space in the corner that will be difficult to reach on a daily basis. Implementing some smart storage could be the answer to your problems – check out the video below to understand how smarter storage could revolutionise the wasted space in your kitchen:
We have plenty more to tell you about how you can improve and revitalise your small kitchens in Kendal on a budget, so if you have more questions to ask about what you can do to improve your home speak to us instore or online. Remember that lighting, storage and tiles are the key ingredients to creating the kitchen of your dreams.