Imagine walking into your home and instantly enveloped by an atmosphere of elegance, warmth, and tranquillity. A space that reflects your unique taste and style and caters to your every need with thoughtful, innovative design solutions.
As a leader in providing home improvements in Cumbria & the South Lakes, this dream can become a reality. Our stunning collection of Laura Ashley kitchens and bedrooms offers a bespoke living space that seamlessly blends beauty, functionality, and personalisation. We explore how you can elevate your everyday experience to new heights of comfort and sophistication.
Free-Standing Pantries for All Your Cooking Requirements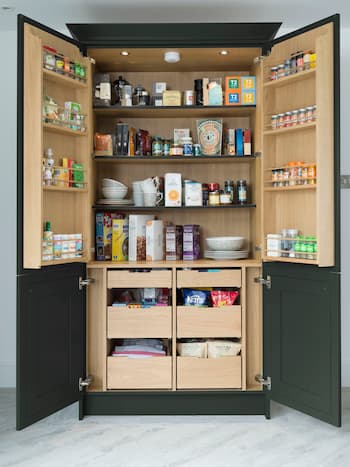 We understand the importance of combining style and functionality in modern kitchen designs. That's why we're proud to offer a range of pantry organisers and kitchen storage solutions that enhance your kitchen's visual appeal and practicality.
One of the standout benefits of our offerings is the stand-alone pantries, which provide flexible storage solutions and allow homeowners to customise their kitchen space easily. These versatile units maximise storage capacity, efficiently using vertical space for a clutter-free environment. The beautifully constructed Laura Ashley stand-alone pantries blend seamlessly with various design aesthetics, whether contemporary or traditional.
These bespoke fixtures include a variety of organisers, such as free-standing metal lid racks, spice racks, and space-saving solutions for food items, mugs, and dishes. Incorporating these stylish and practical storage options into your pantry creates a well-organised and visually appealing space that enhances your kitchen experience.
The Peg System for Effortless Storage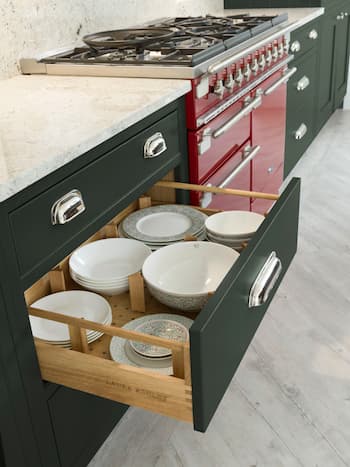 Storing various lids, plastic containers, and other kitchen accessories can be challenging. Each provides different sizes and shapes, making it common for the "messy drawer" in most kitchens. However, the Laura Ashley collection offers an innovative and stylish solution: the peg drawer system. This versatile organiser is designed to keep your kitchen cutlery and dishware neatly arranged and easily accessible, making it an indispensable addition to your modern kitchen design.
One of the main advantages of the Laura Ashley peg drawer system is its flexibility. Featuring removable pegs, this system allows you to customise the placement and spacing to accommodate various dishware sizes and shapes. No more struggling to fit your bowls, plates, and other kitchen items into a fixed storage configuration. The peg drawer system adapts to your unique storage needs, ensuring every item has a designated spot.
The Laura Ashley peg system is manufactured from the highest quality wood, making your kitchen organisation both efficient and long-lasting. Move the pegs as you need to get the most from your storage space.
Experience Refined Storage with Laura Ashley
When designing a beautiful yet functional kitchen, striking the right balance between modern minimalism and traditional charm can be challenging. Laura Ashley's bespoke kitchens masterfully achieve this delicate balance, offering storage solutions that seamlessly blend contemporary design with classic elegance.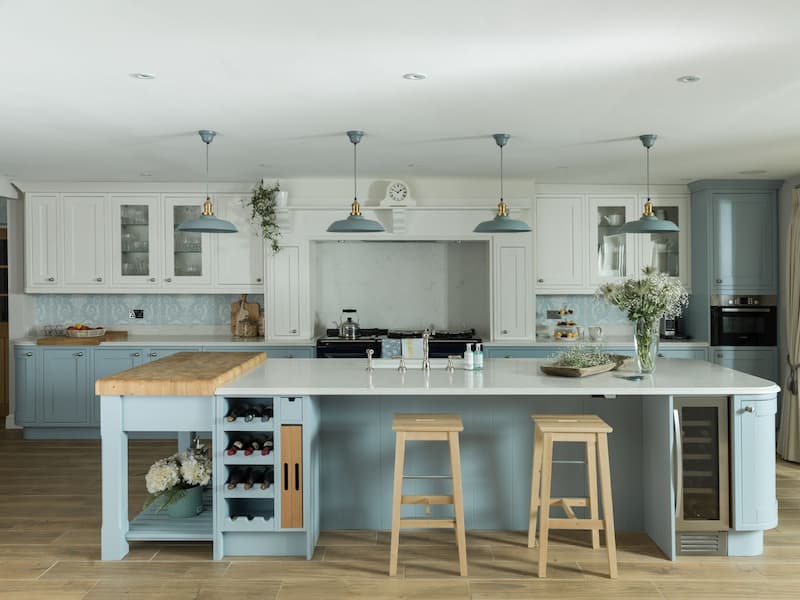 One standout feature of Laura Ashley kitchens is integrating a chopping board and spice rack storage. These thoughtfully designed storage options maximise space and contribute to the minimalistic modern look that many homeowners desire. By incorporating an in-built chopping board and spice rack, you can declutter your countertops and maintain a clean, streamlined appearance in your kitchen.
Despite its modern aesthetic, the Laura Ashley chopping board and spice rack storage does not compromise on traditional charm. High-quality materials, such as natural wood and classic finishes, ensure that these storage solutions blend effortlessly with the timeless appeal of a Laura Ashley kitchen. The result is a harmonious combination of contemporary minimalism and enduring elegance.
Convenience and Minimalistic Bifold Cabinets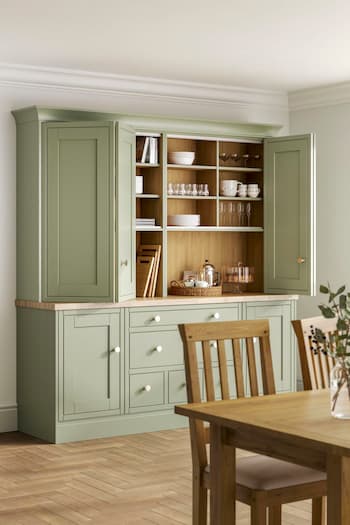 Creating a functional and visually appealing kitchen can be daunting, but you can effortlessly achieve this balance with Laura Ashley Kitchens. One of the remarkable features of Laura Ashley kitchens is the option of bifold cabinets, which offer easy access while maintaining the minimalistic appeal of their traditional designs.
Bifold cabinets are designed with doors that fold back on themselves, allowing for seamless access to the cabinet's contents. This innovative design makes it easy to reach items and reduces the space needed to access the cabinet. They can look stunning as part of the countertop cabinets, allowing you to hide appliances with easeBifold cabinets are particularly advantageous in tight spaces or corners, where traditional cabinet doors may be challenging to open fully.
In addition to their practicality, bifold cabinets contribute to the minimalistic charm of Laura Ashley kitchens. By keeping unnecessary clutter hidden away, these cabinets help maintain a clean and streamlined appearance in your kitchen. The doors fold back neatly, ensuring that the cabinet's contents remain concealed when not in use, preserving the tidy and organised look characteristic of Laura Ashley's designs, making them an ideal choice for homeowners seeking to create a stylish yet functional space.
Bespoke Fitted Bedrooms of Tranquillity
Transform your bedroom into a sanctuary of style and comfort with bespoke fitted bedrooms from the Laura Ashley collection. One of the primary advantages of opting for a custom-fitted bedroom is the efficient use of available space. Fitted furniture, such as wardrobes, drawers, and shelving, is designed to seamlessly integrate with your room's dimensions, ensuring that every inch of space is used effectively. This tailored approach allows you to make the most of your bedroom, regardless of its size or layout.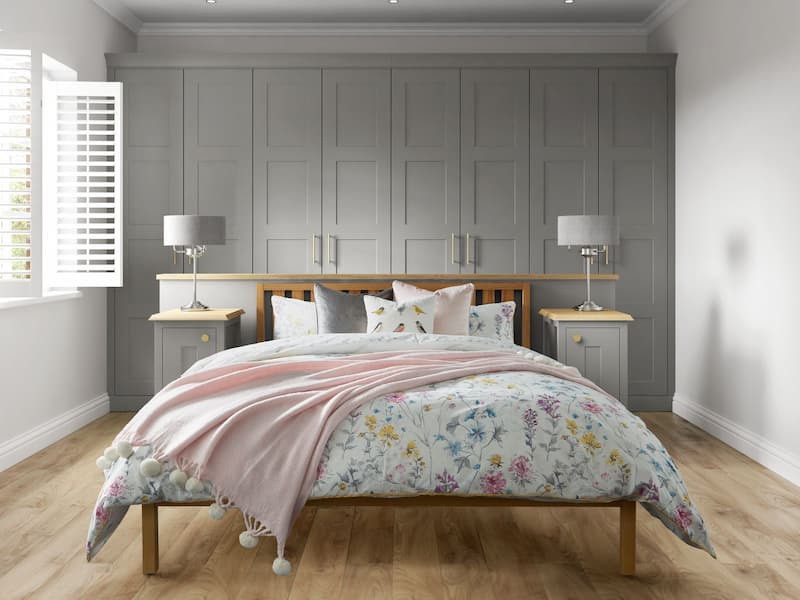 In addition to maximising space, Laura Ashley fitted bedrooms also help reduce on-site clutter. With a range of personalised storage solutions, you can keep your belongings neatly organised and hidden away, resulting in a clean and serene environment. The bespoke nature of these fitted bedrooms allows you to select the storage options that best suit your needs, creating a functional and visually appealing space.
You can enjoy the perfect blend of luxury and practicality by choosing Panararmer for your fitted bedrooms in the South Lakes area. Our team of skilled professionals will collaborate closely with you to design and install a bespoke fitted bedroom that reflects your unique taste and requirements.
Get a Laura Ashley Elegance with Panararmer
Laura Ashley's kitchens and bedrooms in the South Lakes area offer the perfect blend of elegance, functionality, and personalisation. You can create a stylish and efficient space with bespoke solutions designed to cater to your unique needs.
Don't miss out on the opportunity to transform your home with the timeless charm of Laura Ashley Kitchens in the South Lakes. Take the first step towards your dream kitchen or bedroom by stopping by our showroom and seeing what the Laura Ashely collection offers. Alternatively, book your consultation to get an in-depth discussion on how to increase the opulent aesthetics of your home.