We have seen a variety of different trends when it comes to bathroom design. In 2020, we saw deep freestanding baths being at the top of everyone's lists. However, in the past few months, we have witnessed baths being made entirely redundant to introduce shower rooms. It's clear that bathroom fashion is always evolving and to help you get inspired in this blog we will cover the hottest trends for 2022.
Top Tile Trends
In the past few years, we have seen trends change dramatically. Back in 2012, white ceramics were the most popular tile. The fashion then became Aztec and mosaic tile designs within bathrooms, a complete u-turn on the clean-cut aesthetic.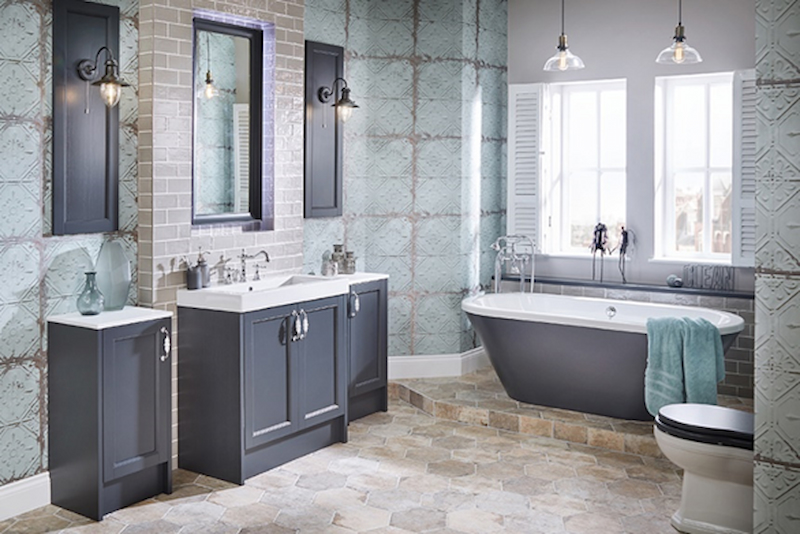 This year, within home improvements in Cumbria, we have seen the comeback of many different tiles trends, from the marble look to Victorian tiles; more recently, the most commonly purchased tile is the porcelain, with gloss-finished, forest green or sage green tiles as favourites.
We have noticed this is a prominent theme throughout bathrooms this year, as wellness and serenity are increasingly sought-after; this favour of green tiles connects to bringing nature to the room. It adds to the statement stone finishes we also see on the rise.
Back To Nature
As mentioned above, wellness and serenity are rising themes across many bathrooms in Cumbria. We have seen a remarkable rise of natural coloured tiling, the amplification of natural light, and the incorporation of botanicals within bathrooms. Studies have shown that the introduction of greenery into your home may help with relief from stress and enhance creativity and productivity. Many are choosing to unite this with the bathroom; the room where you are less likely to be distracted by the outside world.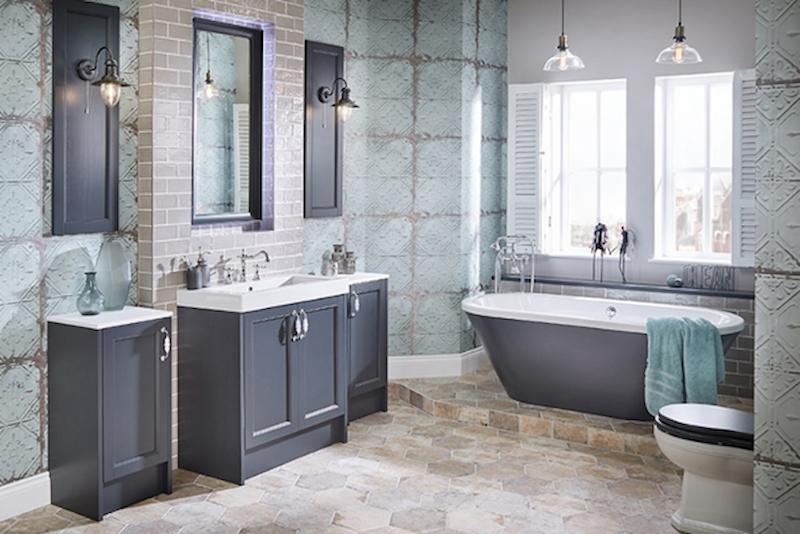 Suppose your home is lucky enough to provide a view to the beautiful landscapes that the Lake District offers. You could draw this into the room by extenuating the windows, allowing for clearer views of that magnificent scenery as you take some time to unwind in your freestanding stone bath.
Mediterranean Meets Modern
It is no surprise that terracotta has returned to the scene within the bathroom world. For two years, holidays to sunnier climates have been postponed or cancelled worldwide, which is why we are not shocked that homeowners are taking to the Mediterranean style within their own homes. Staycations have never been more popular but, when you can't get to the Mediterranean, you can bring it into your home with these beautiful, natural terracotta tiles.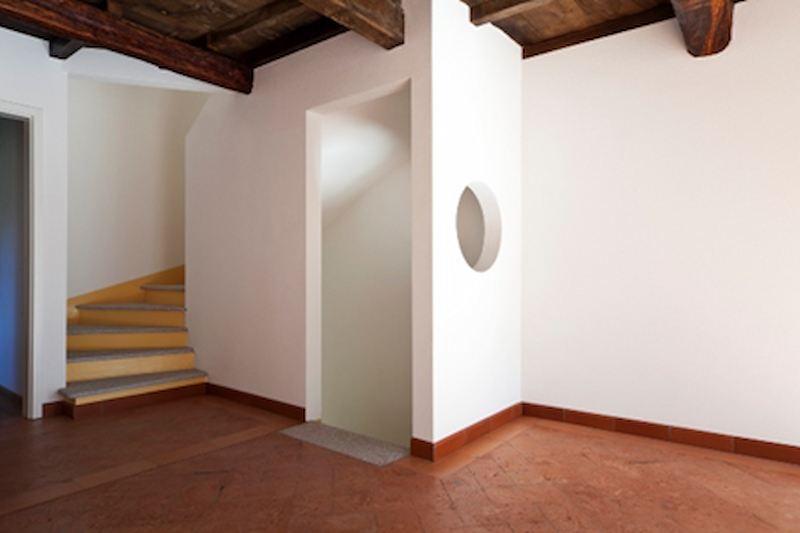 They make a great contrast with white colour, and, with the addition of some potted plants, you will lose yourself in the dream of warmer temperatures and sun kissed beaches. Terracotta is also proven to encourage positive energy. We could all do with a bit of that after the past few years.
Japandi Your Way
If you are looking for a functional and stylish trend, then Japandi could be your answer. This style (sometimes referred to as Scandinese) combines Japan and Scandinavian aesthetics and features the best of them to provide an exquisite, yet natural, look within your bathroom.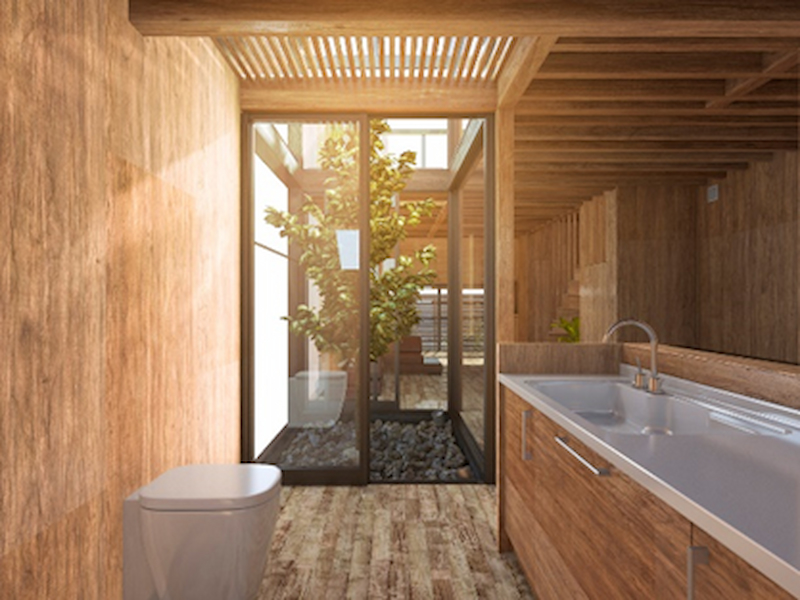 There are several different styles to choose from; whether you are looking for a light, minimalistic look with a lighter shade of wood, or dark tones with the perfect contrast of natural light, explore this very luxurious style to see if it's for you.
It combines the best natural wood for vanity units and counters whilst incorporating the natural stone aspect of the Japanese style, so this uniting of two raw materials allows that feel of nature and wellness to shine through.
Spa From Home
Spa trips are those dreamed-of weekends with the girls or a romantic trip away. Spas have a habit of making you feel at ease with their natural stone and calming environments. They are a perfect way to unwind after a stressful week. You could achieve this feeling within your own home, saving you the travel and expense of a whole weekend away. With the increasing popularity of installing walk-in showers, the spa aesthetic is another trend on the rise.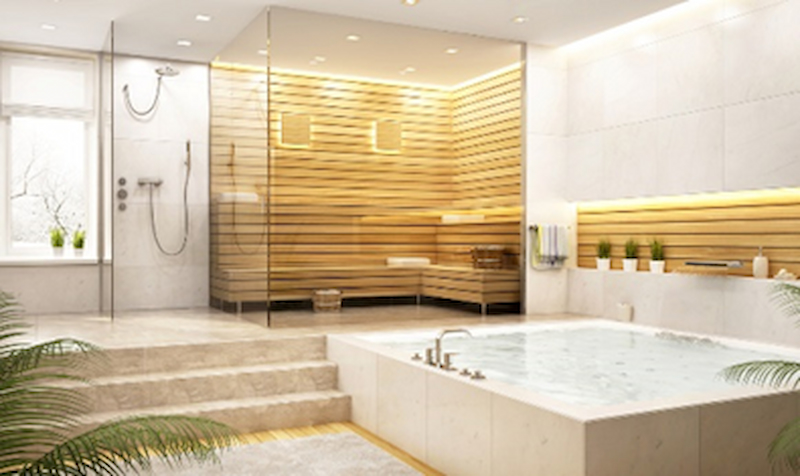 Again, possibly a pandemic influence, or just that theme of wellness; either way, why travel when you could install a home spa within walking distance of your home comforts, in your own bathroom?
You could also add a split level set up within your bathroom to help get this spa-like effect and improve the room's natural flow.
Wellness Sanctuaries
This year, we have noted that the ongoing theme, throughout all trends, appears to stem back to the same objective: wellness and calmness. With the rise of prioritising mental health, it is no surprise that the room in the house where you can shut everything out is turning into luxury home sanctuaries and wellness.
If you need help and would like to build your own sanctuary within your home, feel free to contact us today to discuss your style preference and options.