If you're looking for the most up-to-date designs and ideas for your kitchen, then you have come to the right place. We are experienced designers of kitchens in Cumbria, therefore we are well placed to offer you cutting-edge large kitchen ideas.
In this article, we talk about kitchens that engage with nature, kitchens that use natural materials, how to make an open plan that suits you, and the best colour trends.
We Love the Outdoors
2020 will be remembered by many as a year trapped in their own homes, and – as many have discovered – working on your home to create an environment that makes you happy can be very worthwhile.
If you love the outdoors, then you might want to consider expanding some of your kitchen there. This is the natural progression of double-doored kitchens opening onto the garden, and it is perfect for garden parties.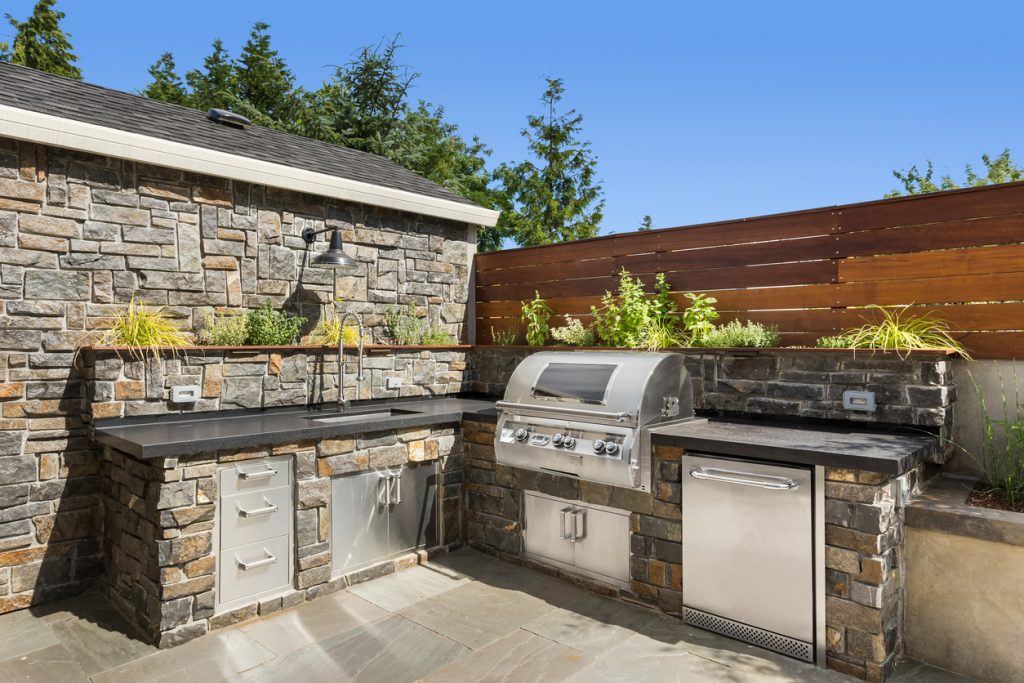 Living closer to the outdoors can be great for both your mental and physical health. If you aren't confident that moving or recreating a portion of your kitchen in your garden is the right answer, however, you could always consider making an extension that gives you the best of both worlds.
To reap the benefits of an outdoors kitchen without physically taking your kitchen outside, you should consider large windows or doors to allow the circulation of fresh air. Poor air quality can exacerbate allergy symptoms and carry illnesses, so it is important to let the outdoors inside every now and then.
Similarly, you can bring a flash of green plants or herbs indoors to create biophilic themes in your kitchen. Biophilia has been a building trend for the past decade and is still gaining popularity. It has also been proven that plants can have positive effects on the human psyche (Treehugger.com).
If your kitchen feels too big – some big leafy plants can help to create a sense of fresh cosiness.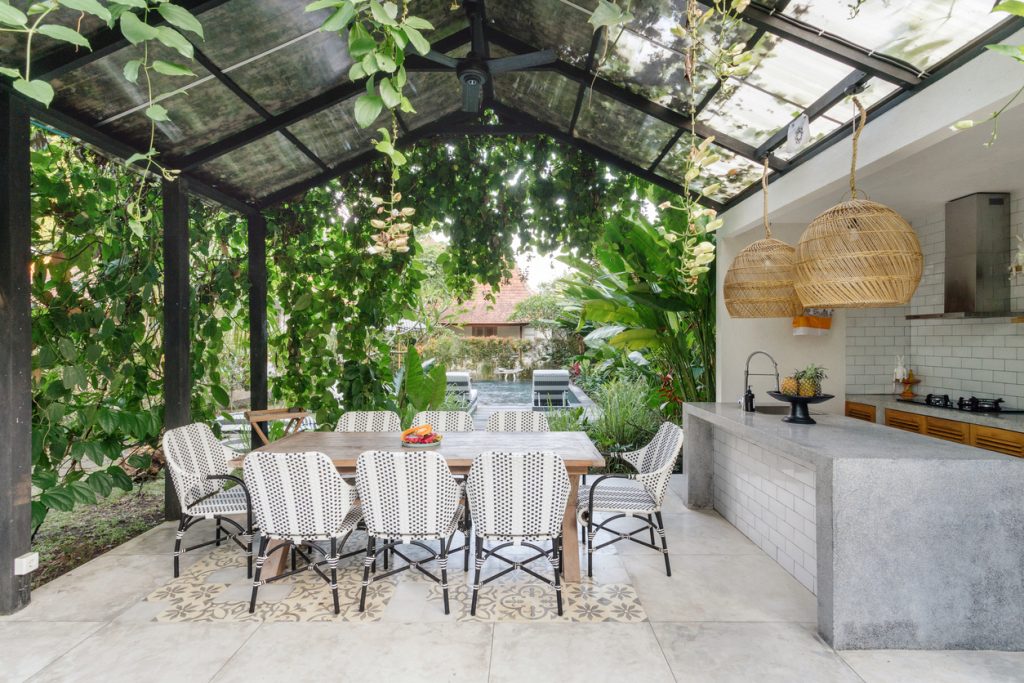 An outdoors-inspired kitchen also offers the perfect chance to engage in 2020's unique stone tiling trends, which leads us to our next suggestion…
Unique Stone Kitchens
With a large kitchen, getting your style right is so important, but it can also be tricky. You're trying to balance your ideas across a space without letting your design feel too crowded and busy, and that can be hard.
Unique terrazzo used in interesting places to achieve synergy is a growing trend in modern kitchens. It is a part of the rise in biophilic designs, which includes incorporating more natural textures and finishes into your living spaces and looks truly stunning in any modern kitchen.
To create a memorable stone kitchen, you'll be looking to use stone in interesting colours and textures in unique places. One idea is to co-ordinate stone floor tiles with terrazzo counters. This can be especially effective when paired with two-tone designs (another popular trend in current kitchen design).
Stone countertops have plenty of practical benefits outside of aesthetic pleasure; a stone countertop is safe against the damage a hot pan on the wrong surface could cause to a poorer quality material. Granite, in particular, is also known for its antibacterial properties – enabling you to run a cleaner kitchen than ever before.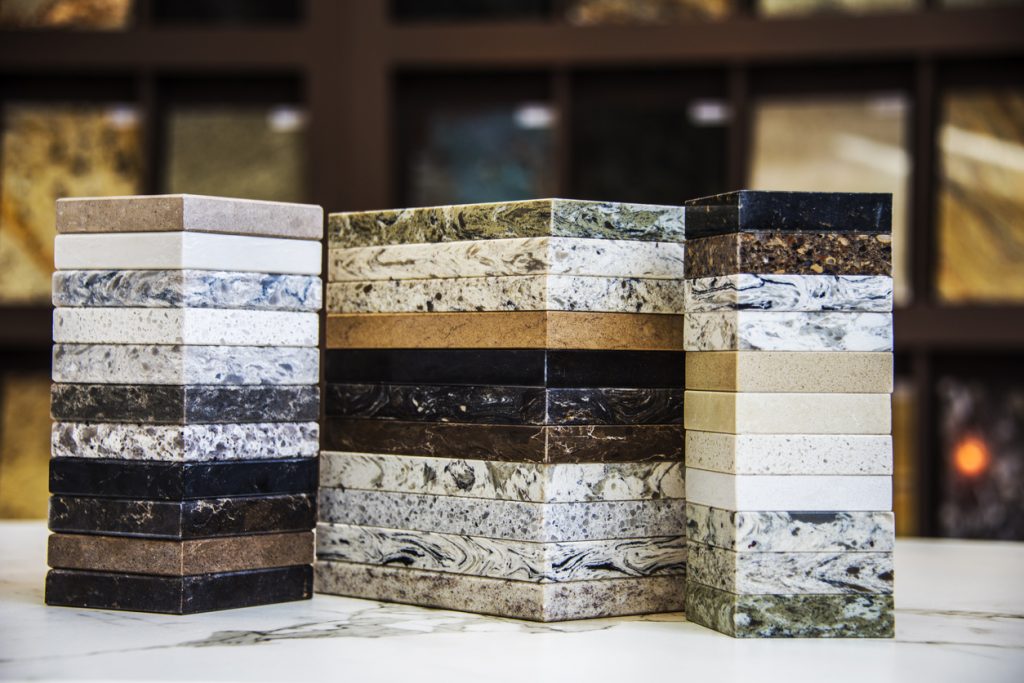 Open Plan and Broken Plan
If you don't have a large kitchen space – or if you do, but still wish it was bigger – you might be able to knock down some walls for an open plan living space. Alternatively, if you like the idea of open plan in theory but have yet to experience an open plan design that takes your breath away, you might need to look towards 'broken plan'.
Broken plan designs share a lot of similarities with open plan – there's a lot of free space and the movement of air and sound between spaces is unhindered. The key difference in a broken plan room is that living spaces are distinguished through their aesthetic, and often by a casual barrier.
This barrier might take the shape of see-through shelves, which simultaneously suggest the end of a space without cutting off the next space entirely. Shelves are also functional, making them a useful 'wall' for your broken plan living.
Open plan typically uses the same type of design and colours to blend two spaces together. Broken plan, on the other hand, might create a cool two-tone kitchen in monochrome colours next to a living space in warm wood and cosy furnishings. Your next kitchen is limited only by your imagination.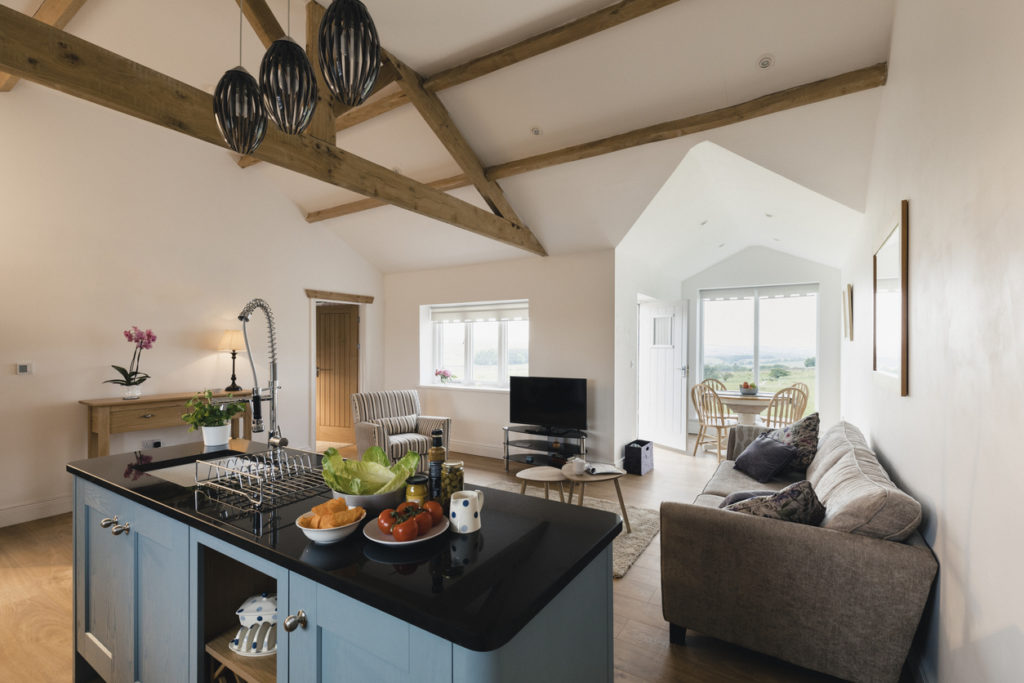 Monochrome Kitchens
Kitchens with stark contrasts in their colours are incredibly in fashion. Those who love colour will opt for two-tone pastels, wood, or white with a vibrant colour. On the other hand, if you can live without bright colours, going for a mix of black counters and white walls can create an incredibly clean looking modern space.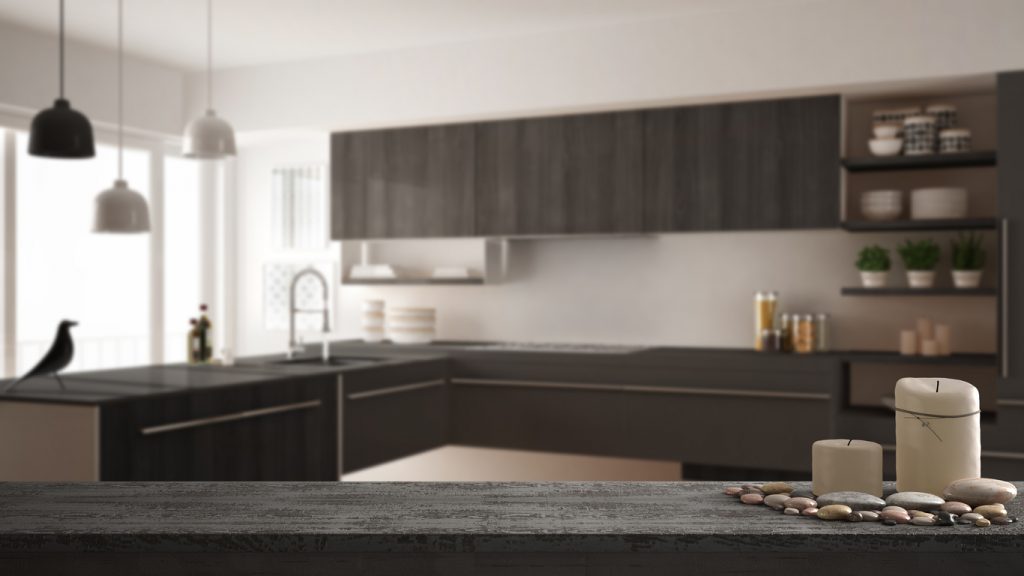 One way to bring a lick of colour back into this room is to consider our recommendations regarding biophilic design, earlier in the blog. Adding a few plants to a minimalistic black and white kitchen can really lift the mood. If you don't have green fingers, then there's no shame in using fake plants to achieve the same effects.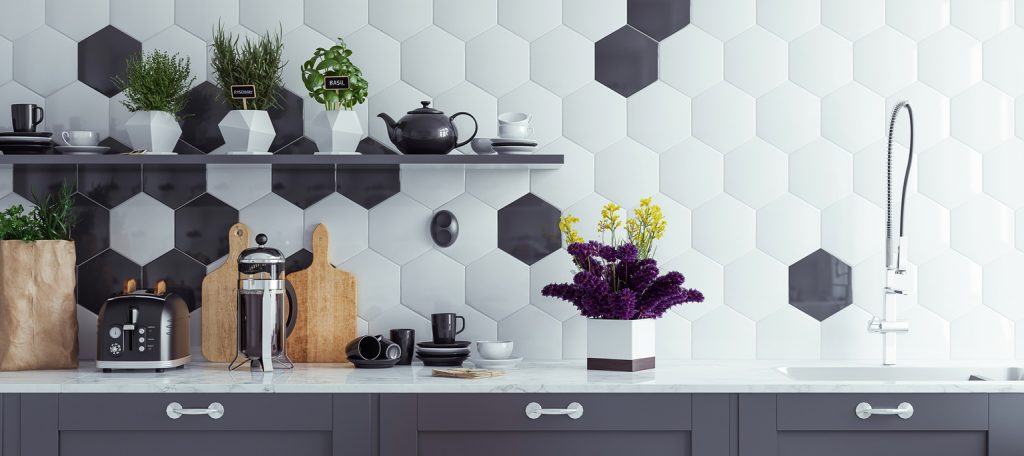 If you've been inspired by any of these ideas, get in contact with us and we'll offer further advice regarding the best fixtures and fittings for your ideas. If functionality is important to you, we can teach you about the award winning Quooker tap, and other great ideas to complement your dreams.