A walk-in-wardrobe is every clothes-lovers dream. They provide you with so much space for all your belongings and function as a space to get dressed and perfect your outfit. But despite all this space, they can quickly become cluttered.
Getting your belongings in order and maximising your walk-in-wardrobe space can seem like a daunting task, but it doesn't have to be. Check out our guide to how to organise your walk-in-wardrobe so you can use it to its full potential.
Start from Scratch
The first step to a brand-new walk-in-wardrobe is to clear it out completely. Set aside a day when you're going to tackle it and take out every single last item. You can get started by organising your things into categories as you remove them, such as winter coats, shoes, knick-knacks etc. and leaving them piled on your bed or the floor.
Now you have a fresh space to look at and organise. Ensure you give the floor of the wardrobe a good vacuum and wipe down all the shelving units and the walls, so everything is nice and clean and ready for your new organisation system.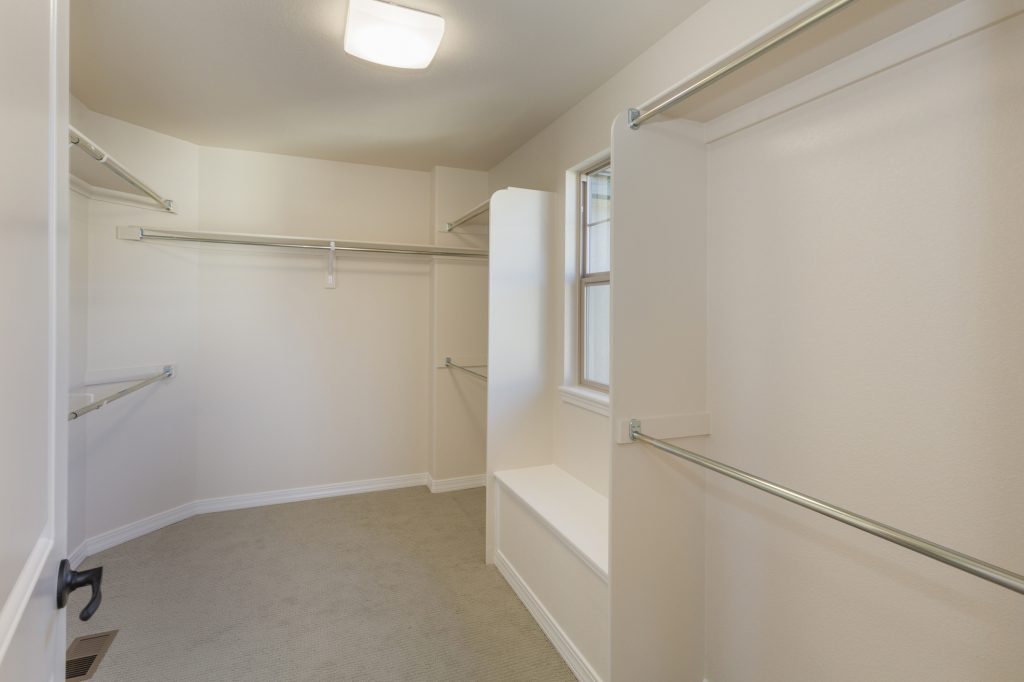 Decide What to Purge
Yes, it's time to get rid of some of your things. That jacket that hasn't been in fashion for two decades, those old bedsheets, or those shoes that don't fit anymore. Whatever is damaged, doesn't fit, or you know you won't use, it's time to get rid of it so you can use the space for the things you actually wear.
Make three piles while you're sorting: keep, donate, and throw away. Clothes that you know you won't wear but are still in good conditioner can go to a charity shop so someone else can make use of them.
Keep Floors Clear
Before you begin to put things back in the wardrobe, consider keeping the floor space as clear as possible. The whole point of a walk-in-wardrobe is that you can step into it like it's a separate room attached to your bedroom. When you fill the floor space with too many things, it becomes just a regular closet. Make an action plan to avoid using the floor for storing shoes or boxes as much as possible.
Add Storage
Now you have what you need to store consolidated, it's time to decide on a layout and storage system to maximise the space. Take advantage of height to hang long items like dresses and coats. Open shelves can be great for displaying items so they can be seen, which is the best way to ensure everything gets worn or used. Here are some ideas for creative storage spaces that can help you keep your walk-in-wardrobe beautifully organised: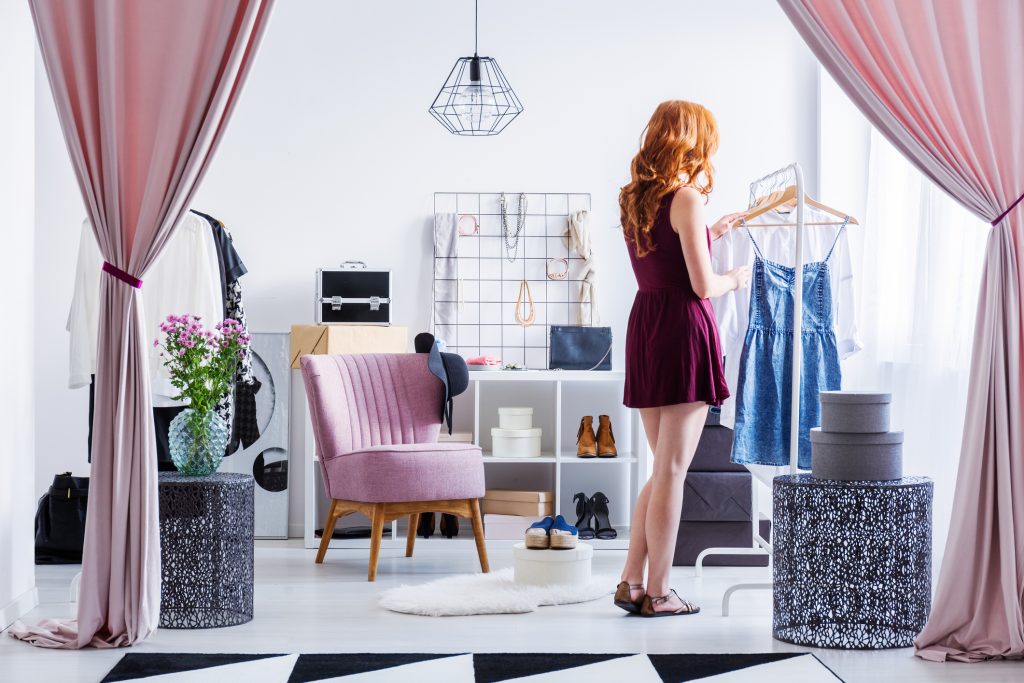 Hooks make a great addition to the back of doors or empty walls. They can be used to neatly organise belts, scarves, handbags, and other items to keep them out of the way and beautifully displayed.
Keep your drawers well organised with this easy DIY trick. With some old shoe boxes, you can keep your items separated while in the same drawer to make it easier to find things without digging around. One box for socks, another for pants and another for t-shirts. A cheap and straightforward way to keep your drawer neat and organised.
A good organisation method is to store your things according to the seasons. Designate one section to summer and another to winter, or even all four seasons if you have the space. If you don't have enough room for each season, consider utilising the empty space under your bed to store out-of-season clothing in rolling trunks and swapping it into your walk-in-wardrobe when the seasons start to change.
Islands aren't just for kitchens; they can be a great built-in storage solution for your walk-in-wardrobe. Use the drawers to store your clothes and the surface for jewellery or other miscellaneous items. Complete with a slide up stool and a table mirror, and you have the perfect storage solution.
Jewellery can take up a lot of space when you want to avoid things becoming tangled. Utilise your wall space and hang your necklaces or bracelets up on a pegboard or with hooks to keep them neatly organised.
A vanity table can help you keep jewellery and makeup organised while providing you with a space to sit and do your face while getting ready for the day ahead.
Shoes take up a lot of space and can create a trip hazard. Consider a stacking solution that will keep them elevated and out of the way, such as on shelving or in a shoe organiser hanging over the door.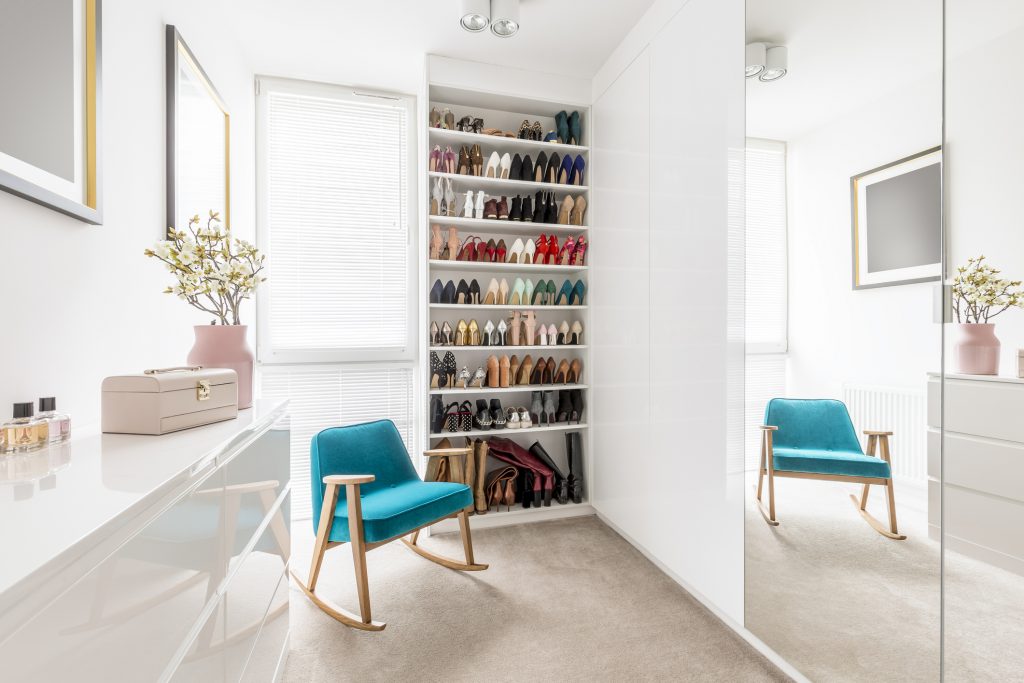 Storage baskets can provide plenty of space while also adding an adorable look to your walk-in-wardrobe. You can get them fairly cheaply, either made from plastic or wicker. They can be painted to match your décor and used to store everything from shoes to handbags, coats and towels.
We hope this guide has helped inspire you to give your walk-in-wardrobe the makeover it deserves. If you'd like some help re-designing your walk-in-wardrobe, Panararmer can help. We can provide you with luxury fitted bedroom furniture and create a unique space just for you. For fitted bedroom furniture in Cumbria, contact us today.