We all yearn for a palatial bathroom, but if you're tight on space, there are some tried and tested design tricks that will maximise the space you have and give a more expansive and luxurious feel.
Keep it Light
Using white on white is the easiest way to give a sensation of open space to even the most cramped bathroom. White makes the most of the available light to really open up the space - try replacing or for a seamless look. And if you don't like white or don't want to replace your fittings, opt for light tone on tone shades of the dominant colour.
Let natural light flood in by replacing any window treatments with frosted glass, then bounce it around the space with cleverly placed mirrors. And replace any decorated shower screens with plain glass to create unbroken visual lines.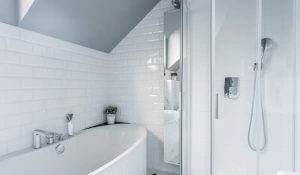 Choose Furniture with Care

Vanity units that float and feature open shelving create an illusion of open space as they take your eye to the wall beyond.
Think carefully about the size of the furniture in your bathroom - you may want a large vanity unit, but in a smaller bathroom, a more minimalist approach can pay style dividends lending a sparse elegance. Or go truly minimal and opt for a stunning pedestal sink.

Choose Large Tiles
Mosaics can look beautiful but those tiny grout lines visually disrupt the space. Choose a large, oblong tile and carry it up to the ceiling, across the walls and then the floor if possible.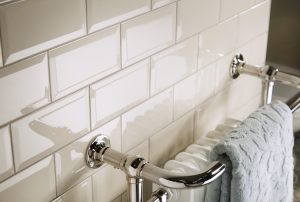 Unifying materials gives visual flow and can look absolutely luxurious, creating the look and feel of a wet room.
Be Clever with Storage
Nothing gives the impression of limited space more easily than clutter. Streamline your storage to rid sinks and baths of unnecessary shampoos, toothbrushes and creams. Recessed storage is an ideal solution for a smaller bathroom, taking the eye beyond the existing 4 walls.
At Panararmer, we're experts in creating stylish solutions for bathrooms and kitchens. Contact us and we'll help you create the ideal bathroom for you - whatever its size.