Kitchen design can often be a challenging one to balance, from picking new units to deciding on backsplashes and wall choices. That is only if the new kitchen replaces the original. If a complete renovation is underway, it can offer yet even more decisions and features to contemplate.
When it comes to colour choices, the world opens up to a vast range of options, and unless you have a specific colour scheme in mind, it can lead to endless amounts of time narrowing the colour choice of each element of your kitchen.
White should be a strong contender for any element when looking into a new kitchen. However, this palate is often an overlooked colour in more recent kitchen designs, and whilst we love to install colourful kitchens, white can offer the perfect black canvas to personalise. As the leading kitchen fitters in South Lakes and the surrounding areas, we explore how to use this colour to provide your home with a beautiful and unique space to enjoy.
White Under-Counter and Wall Units
Whether you have a modest kitchen or a reasonably sized space, white under-counter units are a great way to offer the perception of space. They are also the best option if you believe you could be changing the colour scheme in the future for any reason, such as selling the property or just a chance of decoration.
Furthermore, the colour white could brighten a darkly lit room. For example, suppose your kitchen lacks natural light. Then, white cabinets can help brighten the space up and prevent the feeling of claustrophobia.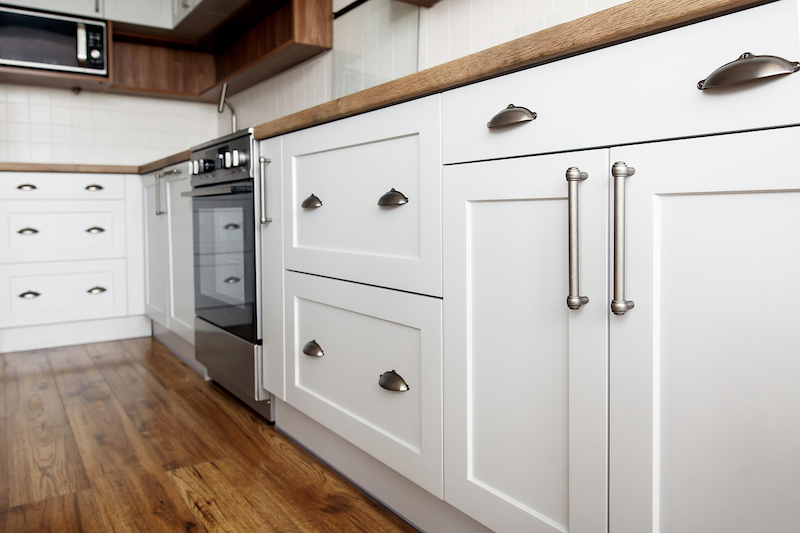 Whilst white may be a dull choice for some homeowners, the colour will never be out of style. When you choose a white fitted kitchen, with the high-quality you can expect from our stocks, your kitchen will not only remain in excellent condition, but it will also fit the trends in years to come. For this reason, choosing white units makes it an ideal investment for your home.
However, if you wish to prevent an over sterile tone in your kitchen, you could pair the colour with contrasting handles or bright and bold tiles. Even choosing a wooden countertop could help balance out the brightness of the cabinets whilst still offering a sleek and classy style.
White Worksurfaces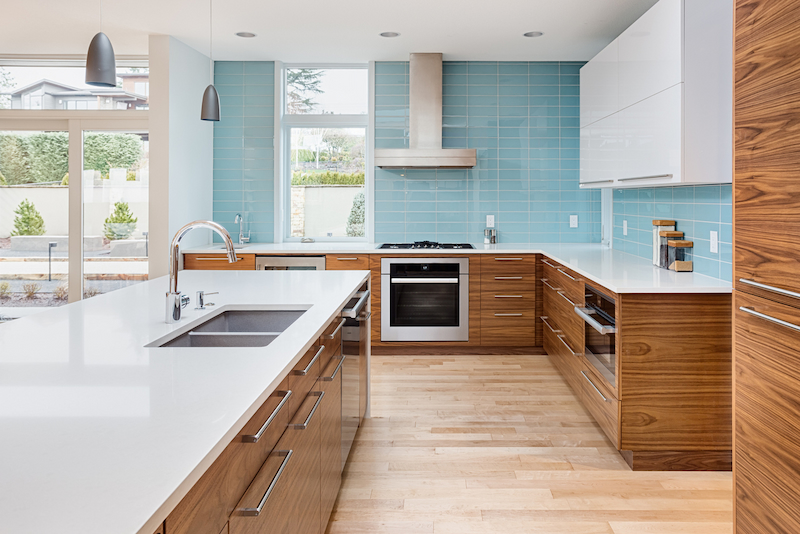 Another fantastic way to uniquely introduce white into your kitchen is with the worksurfaces and countertops. Creating a white worktop again extends your space's openness and is perfect for smaller kitchens or kitchenettes.
There are many variations of white worktops that you could choose a broad selection of textures and patterns which give subtle flecks of darker shades without taking away the clean and fresh appeal of a white counter. Some of our favourite Laura Ashley kitchens, which we stock, offer incredible worktop options that match its extensive range of kitchens, each personalised to your style and wishes.
White Walls and Décor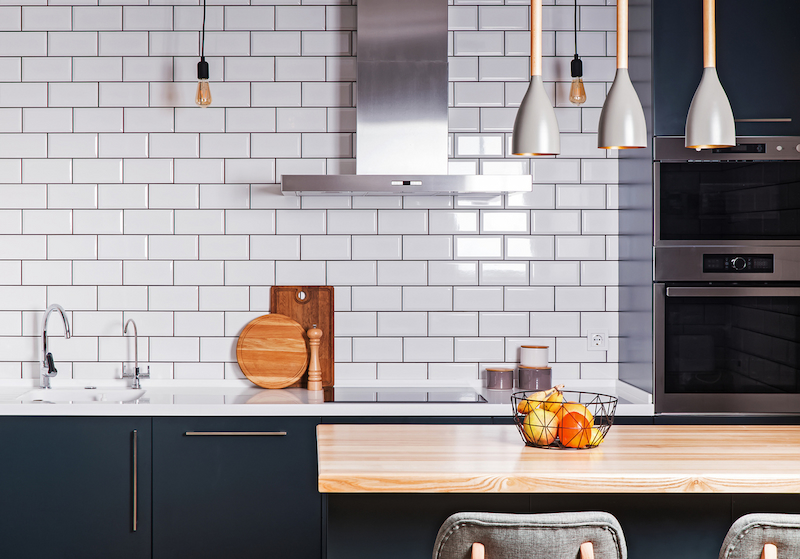 Although white may be a colour all on its own, there are many variations of shades, each offering its advantages and providing beautiful ways to highlight your features in your kitchen. If you already have a kitchen bursting with colour, you may wish to consider white within your wall décor. Cool whites are recommended for south-facing rooms as they usually contain hints of blues and greens and can contrast black well. However, a warmer shade of white could complement the wood tones in your kitchen and tie in all the colours of your kitchen.
Many homeowners will choose white tiles for their kitchen, especially for their backsplashes, for their low maintenance, but they also reflect the natural light in the room. They also help provide a very classy and clean aesthetic. However, suppose you wish to install tiles in a unique way. In that case, you could consider tiling them in a usual layout, such as diagonally or alternating with a distinctive style of tile. White tiles also offer the opportunity to create a stunning statement with the likes of black grout.
Going for the Complete White Package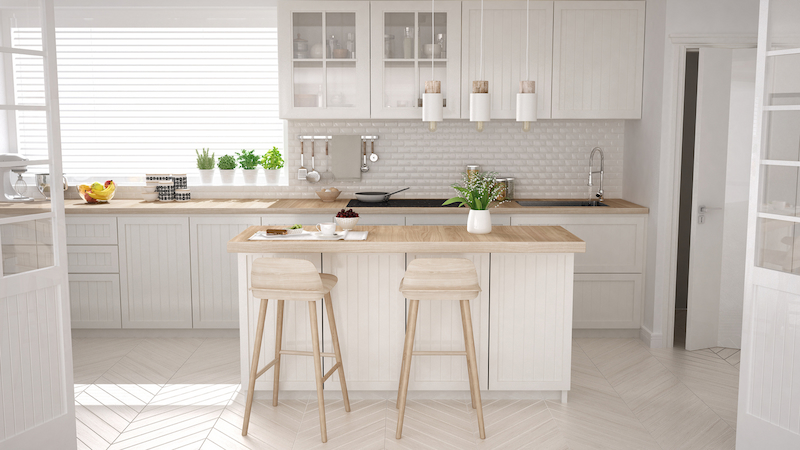 Whilst this style could be favourable for a select few, choosing white for every aspect of your kitchen design could offer an exquisite and sophisticated space. This kitchen style has been popular for many years because it provides a classic and minimalistic appeal that is annually sought after.
Having white throughout your kitchen can provide a very fresh and organic aesthetic. This style is ideal for those wishing to add plant life into their kitchen as the white accentuates the vivid colours and reflects the natural light to produce a very harmonious environment. The only disadvantage to an entirely white décor is the element of dirt, which puts most homeowners off choosing this as the entire colour scheme. Also, with an altogether white kitchen, you may find that cleaning becomes a chore, especially for those with busy families and pets. However, if this is something that does not put you off, then we very much recommend this to give your home the showroom feel.
Bespoke Kitchens from Panararmer
If you are in the process of re-evaluating your kitchen design and are unsure where to start, we have a whole team of experts able to help you get started. At Panararmer, we only offer the best fitted kitchens in Cumbria, with the highest quality materials. Our Laura Ashley range, for example, provides a unique style with many colours, fixtures, and fitting options to personalise your space to your style. For inspiration, you could visit our showrooms in Leasgill or take a look through our extensive online gallery.