Have you just bought your property and are not quite ready to decide whether to redesign or extend your kitchen? Or, perhaps you don't need a big kitchen, but feel a little claustrophobic when cooking your tea?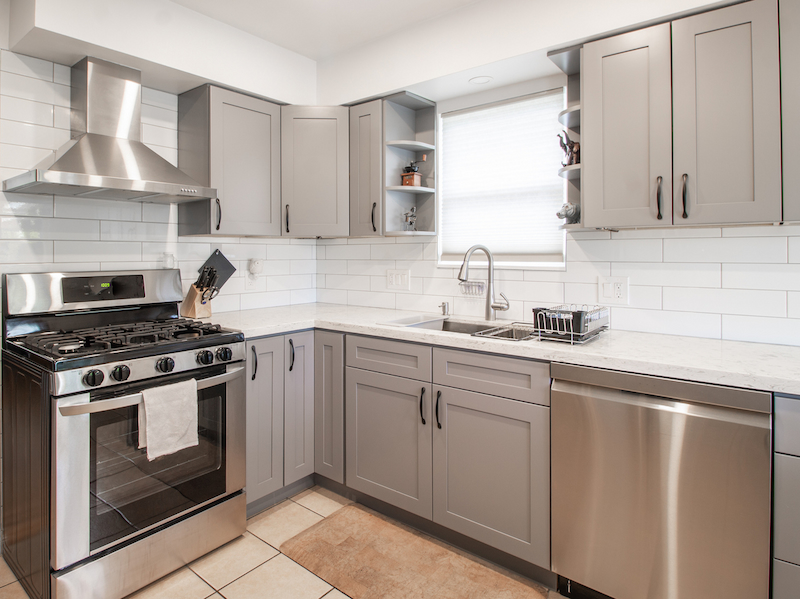 We have some great tips and tricks to help open up your kitchen, giving it the appearance of a much bigger space than it is, so take a look at how you can go about it.
Colours
The easiest and possibly cheapest way to improve the spacious feel of your kitchen is by using colour. Either when it comes to buying your new kitchen or simply redecorating. Avoiding dark colours helps create the feeling of light, leading to a brighter, airier space.
Natural colours are ideal to help open up your room, so choose whites, creams and light beiges. If you do like a dark worktop, you could balance it out with contrast – for example, opt for lighter backsplashes and flooring. Painting the walls to match your light coloured cabinets will also give the appearance of open space, helping your kitchen to look bigger than it is.
Open up to the outside
Natural light is the best way to increase space in a room. If you have window dressings, these can make the décor look heavier and prevent the natural light from coming through, so change dressings for window privacy screens (or opt for sheer curtains). This allows natural light to come through, whilst still keeping your privacy if you need it.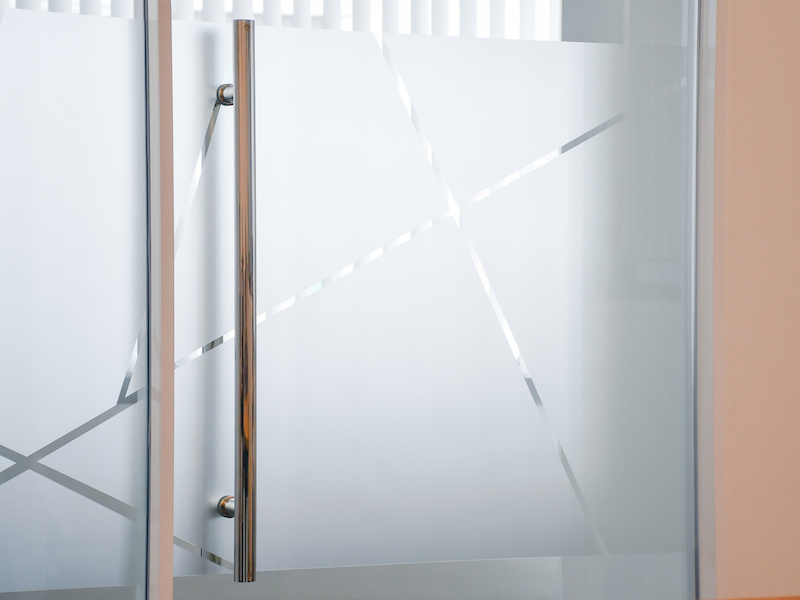 Reflect on Things
Whether it's natural light or not, reflecting it around your kitchen gives the idea of more space than there actually is. Whilst this trick is extremely effective, it is always good to bare in mind how much cleaning you are prepared to do. Kitchens are renowned for grease and, whilst mirrors will reflect the light, they will also reflect any dirt.
Integrate Everything
Nowadays, you can find a hidden place for everything; even plug sockets can be integrated into the work surface. Integrating your appliances can minimise the clutter on your surfaces, allowing more space available on your worktops. Even appliances like kettles can be integrated into the plumbing, so give Panararmer a call and ask us about our bespoke fitted kitchen designs in Cumbria to find out more about integration within your kitchen.
Floor-to-Ceiling Cabinets
Maximizing your storage is the best way to achieve that minimalistic look, which contributes to the idea of space within a small room. Floor-to-ceiling cabinets will elongate the room and having that extra storage can help tuck away all those appliances that you do not need every day.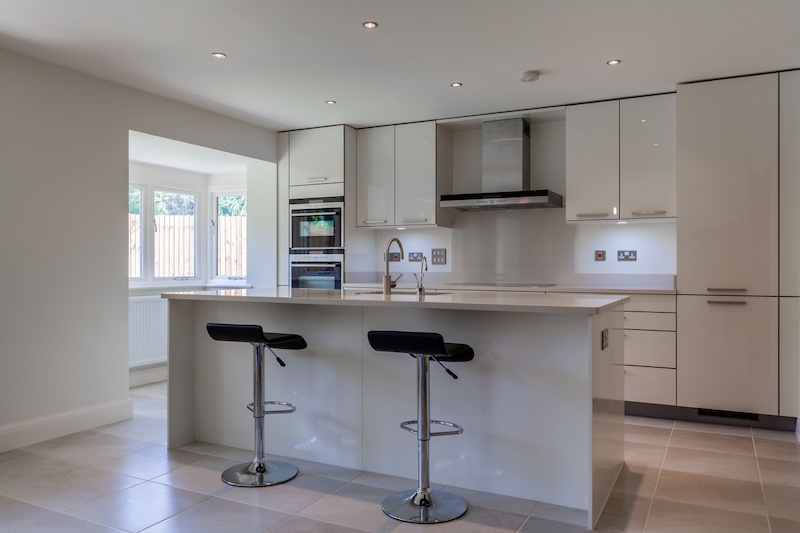 If you are worried about reaching those top shelves, give one of our design experts a call and they will be sure to help you with built-in steps and ladders.
Open Storage
Open storage is not quite for everyone. If you are a busy family on the go, or work that 9-to-5 with a fair commute, open storage such as shelving can quickly turn into clutter and make life more complicated, not easier.
However, if you are someone who likes to keep organised and tidy, then open shelving can help allure you into the feeling of space. The other option, of course, is glass-front doors; you can store your appliances or plates away from the environment of the kitchen, whilst still achieving that sense of openness.
Door Handles
Slimline is key to small kitchens to make them appear larger than what they are. You can achieve this by reducing the number of door handles on show. Opting for push or click mechanisms within your cabinet doors will create that slick and stylish look, ideal for small kitchens.
Make Clever Use of Space
When it comes to small kitchens, every inch of the room needs to be thought of, from the corners to the space between your appliances (if you have decided not to integrate everything). We have all had that corner cupboard where things seem to disappear, never to be seen again, but there are many options to make that a thing of the past.
You can install a cupboard carousel, allowing you to reach all areas of the cupboard by simply turning the wheel. There are also the swing-out corner cabinets, allowing even more storage options.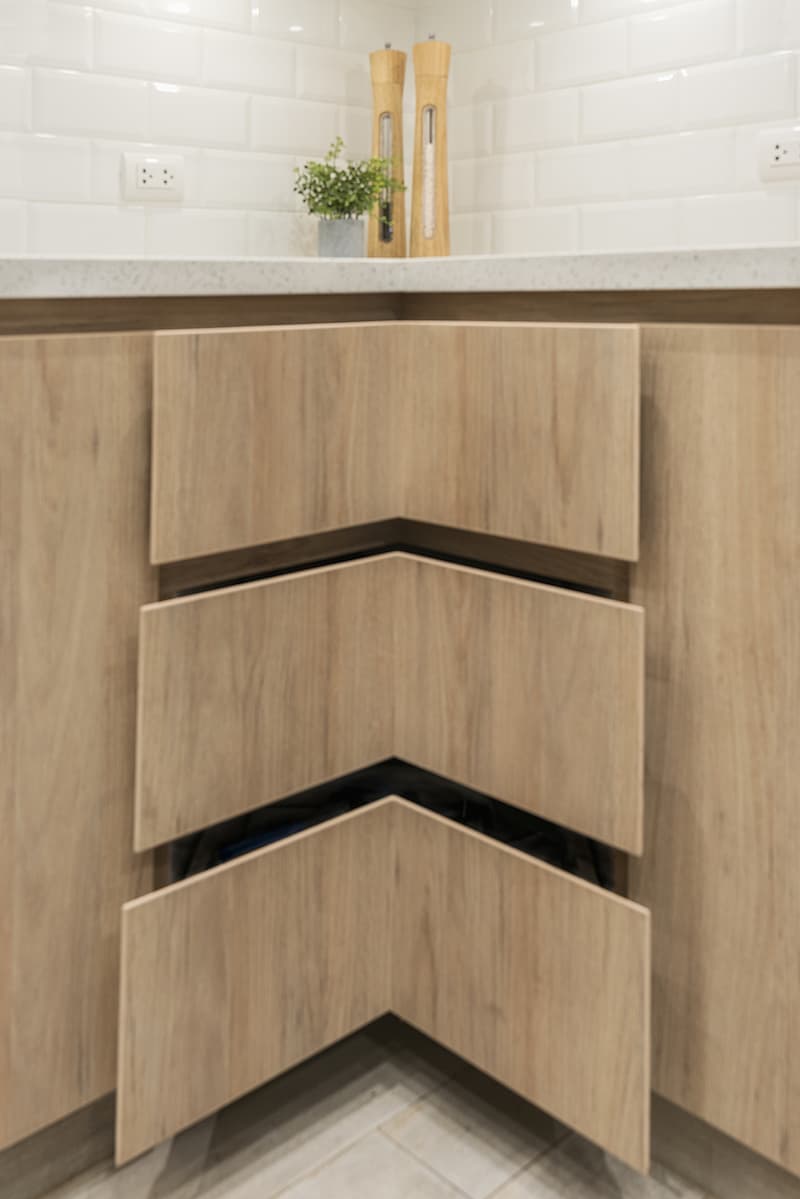 The most popular home improvements in Cumbria, at the minute, include pull-out shelving. Those three-inch gaps are finally getting their day with slick shelving that you can either slide out on wheels or have integrated into your kitchen. Either way, they could be the ideal answer for your spice racks or even your cleaning products – the choice is yours and the possibilities are endless.
If you are looking to maximize your kitchen space, then feel free to contact us and speak to a member of our team. We are one of the top experts for kitchens in Cumbria, so don't wait for that rainy day and give us a call today.