Perhaps you live in an urban area where space comes at a premium, or perhaps you are working within a tight budget and you had to compromise your bathroom for a house that is perfect in every other way – if this is you, then we have the solutions you're craving for. This blog will tell you how your choice of tiles, storage and colour scheme could be making your bathroom look smaller than it really is, as well as how to fix that. Our expert bathroom fitters can help you create your dream bathroom and offer additional insights into the perfect layout and colour scheme for your bathroom.
How to Make a Small Bathroom Look Bigger
To create the illusion of space where there is very little, you will need to consider light and storage, as well as a couple of tips and tricks like extra mirrors and larger tile sizes. You can find out more about each individual aspect below:
Large Format Tiles
These tiles are simply bigger than most tiles, but they are all the rage in interior home design for the foreseeable future. These huge tiles are much loved for three reasons; they give the illusion of space, each individual tile takes up more space than other tiles so there are fewer grouting lines, and they are top trend in bathroom design for 2019.
The cleaning benefits of large format should be enough to persuade you that they are the answer to your bathroom problems, but LFT can be quite difficult to install as they need to be placed on very flat surfaces. Therefore, if you know that your walls or floor have some troublesome imperfections, then you may need to take time fixing these before you can consider installing them.
If you're going for a luxury bathroom feel, then you may also wish to employ some underfloor heating so that you can do away with bathmats and rugs to stave away the chill of tiles in Winter.
Light Colours
If you struggle with small spaces in any room, you will be recommended to use light colours in your designing because bright pale colours are the most effective at reflecting light. A dark moody room is always going to feel a little smaller and absorb more light than a bright and airy one, so choose whites or pale greys if you're trying to make your bathroom look bigger and more inviting.
Bathrooms can also tend to get quite wet so it can be a good idea to tile lots of areas as they are easier to clean than painted walls and carpeted floors, but where you do have to use paint ensure that a high sheen paint is employed as these are the most water resistant. Silk or satin finish paints are often a popular choice for bathroom designers, and a high sheen is also likely to reflect more light which is perfect for your aim of making your space appear bigger.
Another idea linked to increasing the amount of light available in your bathroom is to allow more natural light to enter the room. If you have bathroom products lined up in front of your bathroom window, then you should move them to somewhere else. Alternatively, if this isn't an option – as some bathrooms have no windows – you could consider buying a more powerful light bulb.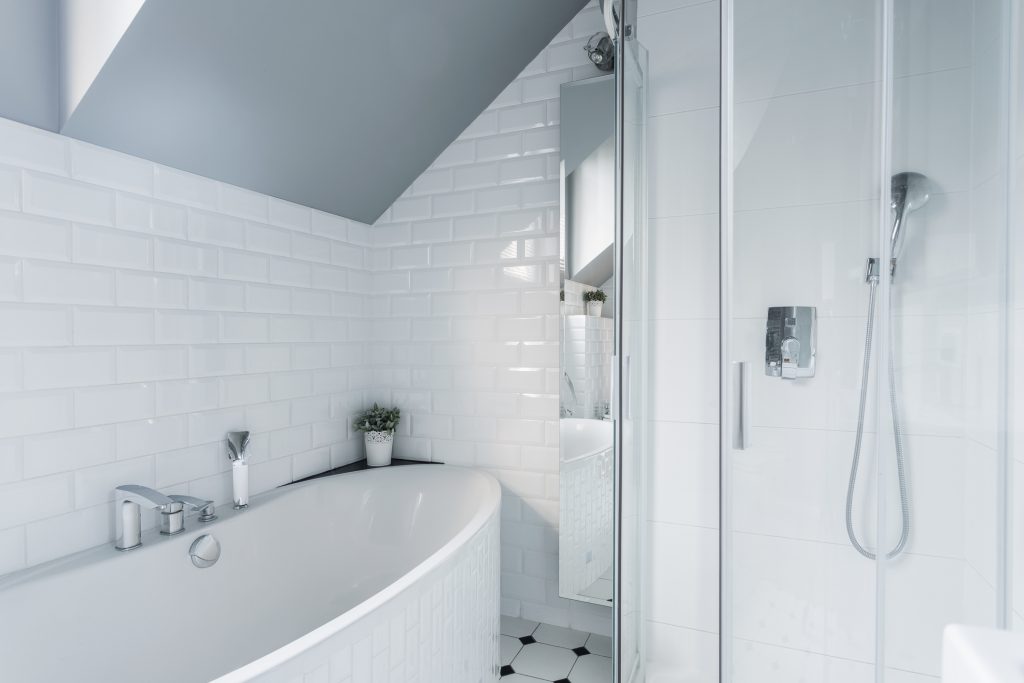 Mirrors
Once you have increased the available light in the room, then your next step is to ensure that you're making the most of that light. By increasing the number of reflective surfaces in your bathroom, the more the light will bounce around and brighten up your room.
Mirrors also give the illusion of there being more space than there actually is, which will also give your small bathroom the appearance of a larger space.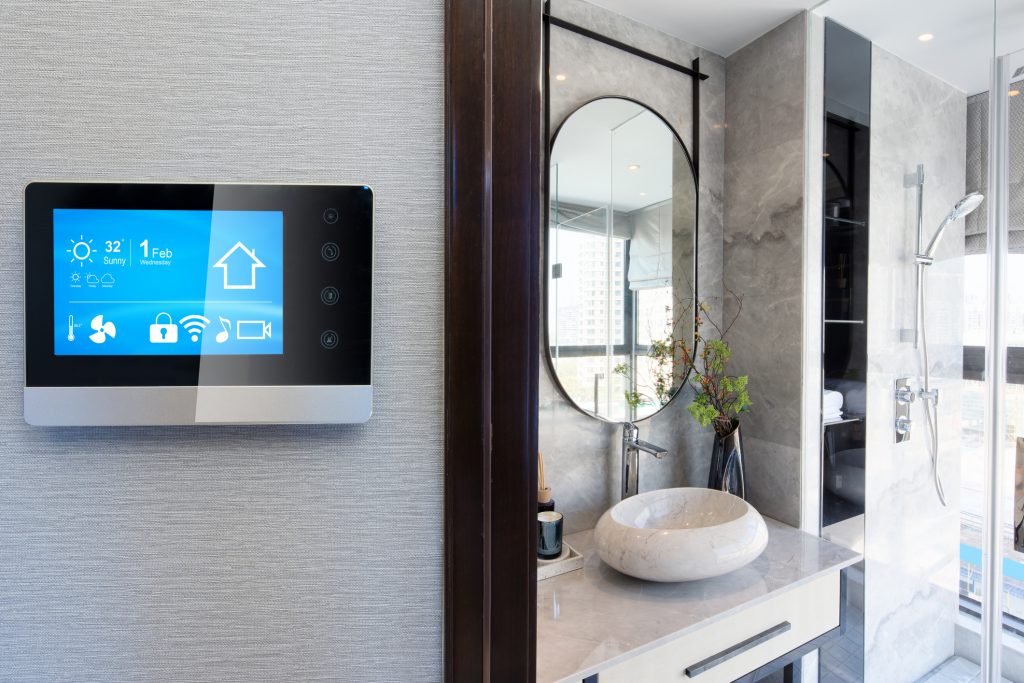 Smart Storage
Keeping it clean is the cheapest tip on this list, but it will make such a difference to the look of your bathroom. We have all fallen victim to the curse of one too many bottles of shampoo, conditioner, soap, shower gel – usually just after Christmas, but by choosing to rid your bathroom of that excess weight you will be choosing to create a more spacious bathroom.
Some tips for cleaning up your bathroom includes refusing to buy new shampoo or conditioner until you are down to your last bottle. Alternatively, try gifting any unused products to friends, donating them to charity raffles or giving them to the local homeless centres.
You may also want to try buying your products in larger bottles which will save you money, trips to the shop and reduce your plastic waste if you are already buying in bottles.
Once you've rid yourself of all the excess, the next step is to buy a floor tidy if you don't already have one. Vertical storage works best because it uses the least amount of floor space for the maximum amount of storage.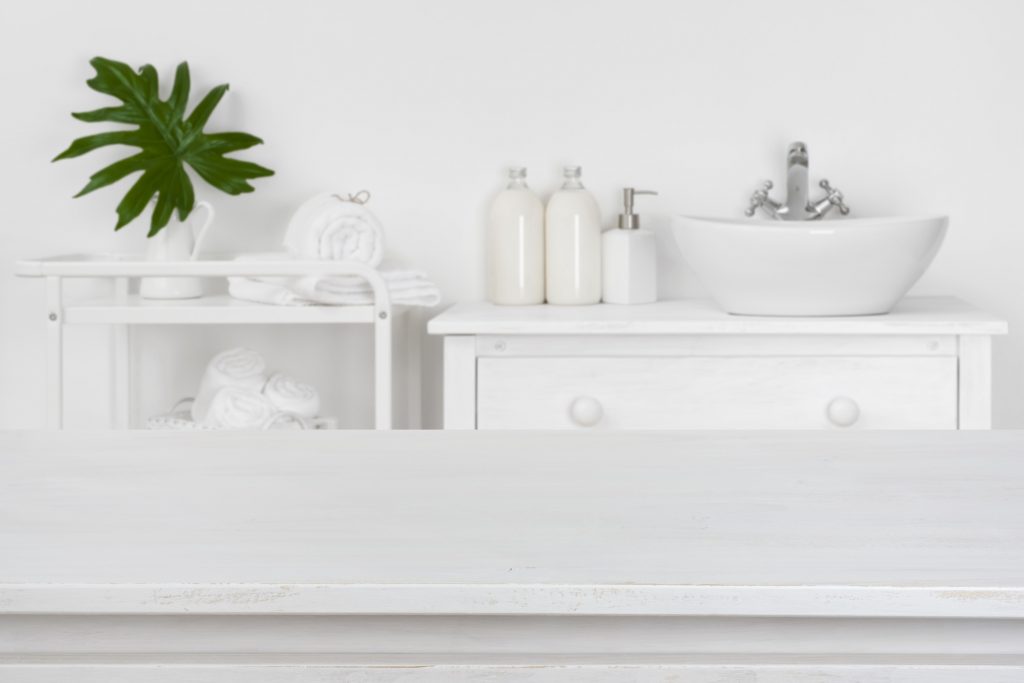 We're experts in interior design so trust us with your bathrooms in Cumbria and bathrooms in Lancaster, whether you're dealing with making the most of a small bathroom or in the process of designing your master ensuite. Our expert team can handle any questions you may have about interior design so please do not hesitate to contact us with your queries.