Brightening up a dark room in your house isn't as hard as you may think. There are several ways to do this, and most of them don't require a complete renovation, just a few tweaks! If you'd like to brighten up your bedroom and turn it into a relaxing space you'll want to spend a lot of time in, take a look below at our design and décor tips.
We specialise in home improvements in Cumbria, which means we know all there is to know about making a space feel brighter and lighter.
Put Mirrors Near Light Sources
A good trick is to place mirrors near lighting since this will make the bedroom appear bigger and brighter. If you're unsure where to place it, choose a space opposite a window so you can make the most of natural lighting. If putting your mirror opposite the window isn't possible, you can simply place it near a table lamp for a similar effect.
As long as the light is soft, you shouldn't have any issues when it reflects off the mirror.
Choose a Light Colour Scheme
It goes without saying that darker colours will make your bedroom look heavier, darker, so make sure to pick colours like white, beige and pastels. These will help light bounce around the room since brighter tones reflect light better, while darker ones absorb more light.
The same is true of your flooring – whether you have carpet, wood floors or laminate, choose a light colour scheme capable of lifting the room. Light colours will help you to create an airy feel in the bedroom as well, even if you have a small space, so you should consider having walls that are darker than your flooring.
Keep these colour schemes in mind for your curtains, throws and duvet covers since they can completely transform how a room looks.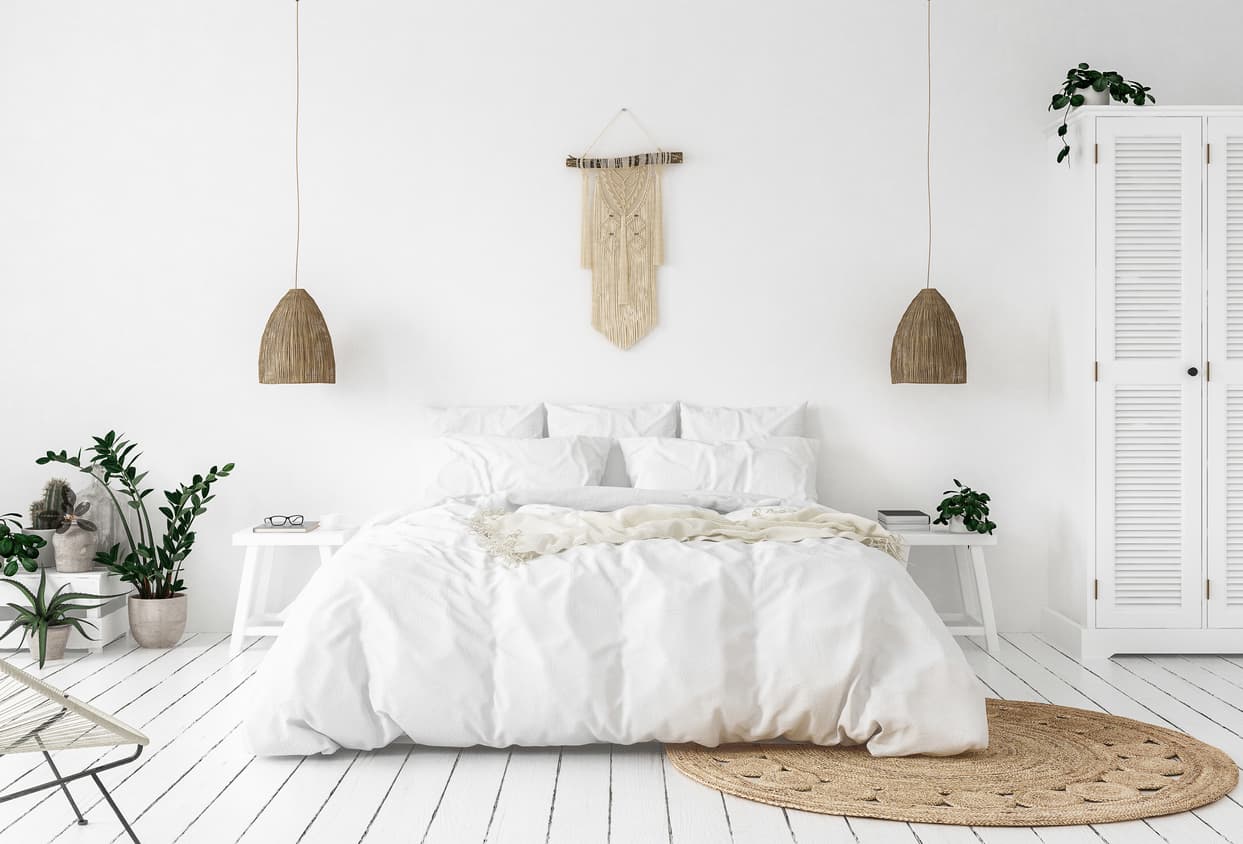 Avoid Dark Furniture
This type of furniture can make the bedroom feel heavier and darker so, while you should choose furnishings that match your preferences, you must still consider how your decision will impact the airiness of the room. If you have a small room, you'll want to stay away from colours like dark blue or even grey since they can make the space look even smaller.
Of course, if you can't completely avoid darker furniture, especially if it's your favourite, try to offset them with lighter elements in the bedroom, such as pillows, rugs or the walls.
You don't have to decide everything yourself! If you'd like some inspiration or help to choose the right items for your home, you'll find great fitted bedroom furniture in Kendal. Panararmer will bring your vision to life by creating a bedroom that suits all your needs.
Interested in our bespoke service? Drop us a message, and we'll be happy to discuss your project.
Opt for Colourful Area Rugs
Area rugs are fantastic choices to add texture and colour to your bedroom, especially if you have a neutral carpet or a dark floor. You don't have to stick with white or ivory-coloured rugs – warm tones like yellow work wonders as well, as they help brighten up the room whether it's sunny or rainy outside.
Larger rugs also help the space look bigger, so choose them instead if you have a smaller space or if you want to highlight a particular area of the bedroom.
Choose Curtains You Can Pull Back
As mentioned, select lighter-coloured curtains when revamping your bedroom, but also consider getting sheer ones instead – this is because heavy fabrics will block natural light, making your room look darker. You can pair sheer curtains with black-out blinds so you can still sleep in darkness.
Whatever curtain choice you make, you may want ones that can be pulled back to either side, ensuring maximum natural light. This tip is great to help your window look bigger too since there will be less fabric in the way.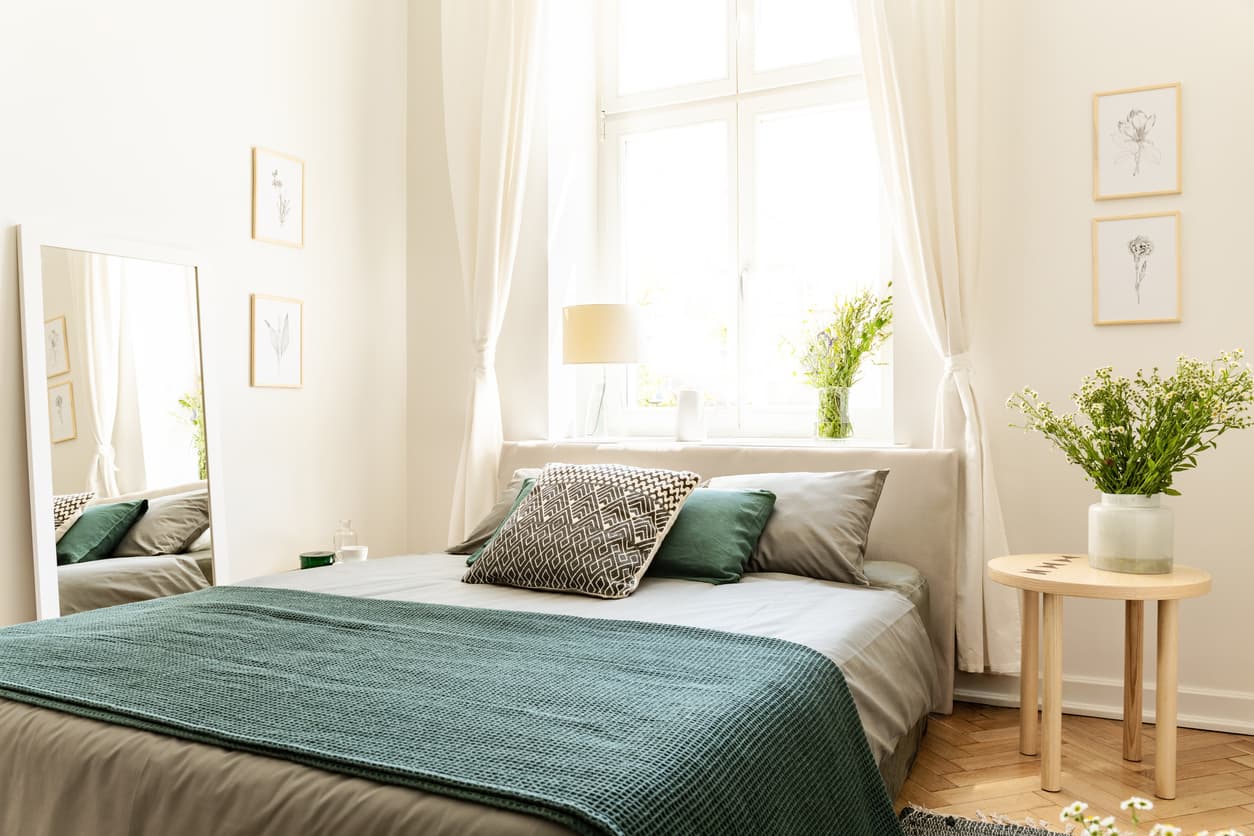 Adopt a More Minimalist Décor
If your bedroom barely has any natural light and feels very dim, then you may want to consider a minimalist approach. While this style isn't for everyone, it can help small or dimly-lit rooms feel larger and brighter.
To follow a minimalist aesthetic, make sure to reduce clutter in the room and choose furniture that's lower to the ground since that will help maximise the existing lighting. You'll want to leave as much space between items because more 'empty' space can help light move across the room.
If you're unhappy with your current bedroom and want to revamp your décor, you don't need to overhaul the space completely. Brightening up a room can be as simple as adding a mirror or choosing the right furniture, so speak to Panararmer if you're unsure how to start. We can offer you the best ideas for kitchens in Carnforth, bathrooms in Kendal and more.
Our expert team of designers and furniture fitters will work with you to ensure the vision you have of your new bedroom matches reality – call us on 015395 63523 for more information.