With 2021 well underway, there's no better time to take a closer look at the upcoming interiors trends for the year. With many of us stuck at home for much of 2020, interiors have been more important than usual – and if you haven't completed a DIY job, given your home a fresh lick of paint or rearranged the furniture, you're probably the odd one out. So, when it comes to the new year, what kinds of trends are we likely to see appearing, and what will we see repeating from previous years?
Read on to find out more about our predictions for the bedroom trends of 2021, from small interior changes to remodels and redecoration projects many of us will be tackling in the new year.
A Splash Of Colour
While the wallpaper feature wall has been a mainstay of bedroom interiors for years, this year paint has taken over, with patterned wallpaper and bold designs being left behind in favour of bright colours and saturated shades. While block feature walls remain top of the list, the use of shapes and colour is swiftly becoming an interior favourite.
Whether it's a colourful arch in mustard yellow and burnt umber to frame the bed, or a circular splash of colour to perfectly frame a mirror, the use of colour and shapes in the bedroom is bigger than ever. Providing a way to define and create spaces within spaces, there's a reason this interior trend is likely to carry on to 2021 and beyond for the most creative property owners amongst us.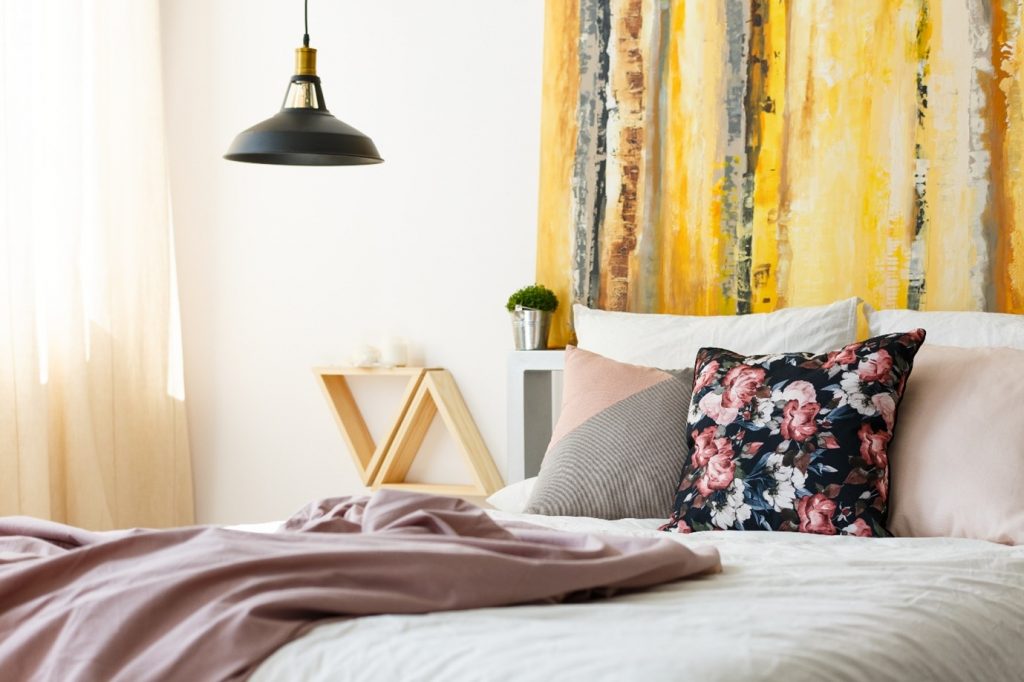 Light & Airy Accessories And Soft Furnishings
Space and light are critical components in 2021 bedroom trends, especially when it comes to introducing texture and natural brightness into the space. Lighter earth tones, off-whites and stone shades continue to be popular for soft furnishings and accessories, with layered, sheer curtains and textured bedding sets proving to be incredibly popular. The ideal way to expand a space and make it feel bigger and brighter, going light and airy helps to make bedrooms feel fresh every hour of the day, without being weighed down by heavy fabrics, materials, or deep colours. Perfectly paired with wood and timber tones, the more textured your choice of soft furnishings, the better.
Fitted Storage Space
Concealed or enclosed storage space was big in 2020, and it's only looking to become more prominent in 2021. While open clothes racks and storage space had its moment, concealing messy clothing and laundry behind beautiful, fitted wardrobes and built-in units is one of 2021's biggest trends.
Often painted to match the existing shade of the room, these understated built-in storage spaces provide openness to an area by removing the appearance of clutter, leaving you to enjoy your bedroom without looking at piles of clothing or messy rails all day long.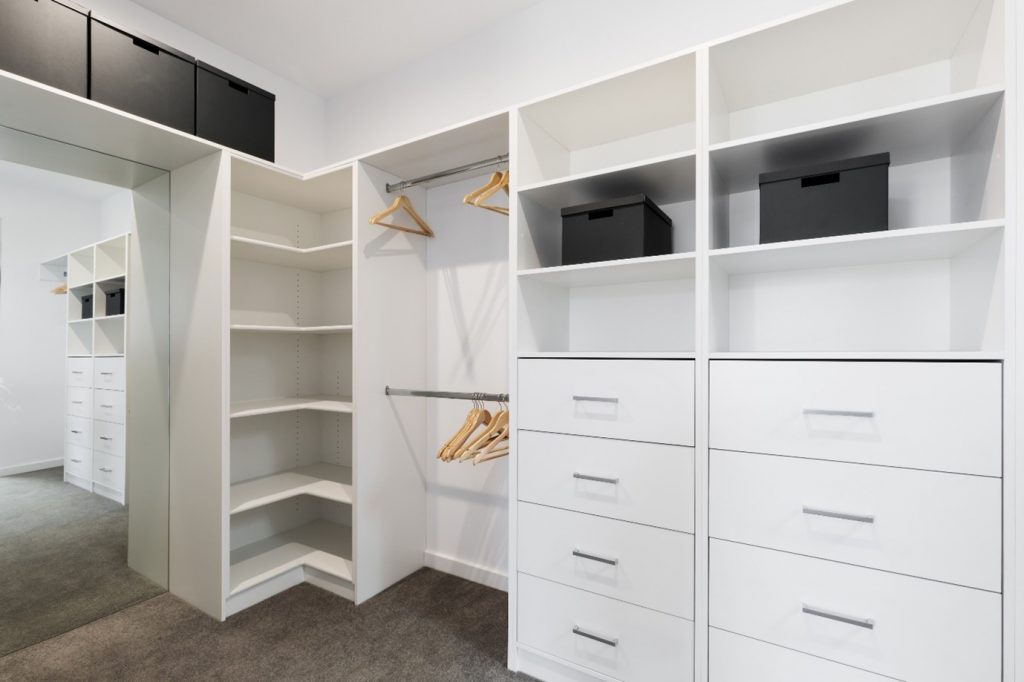 Seating & Relaxation Spaces
In 2020, the bedroom stopped being just a bedroom. People spent more time at home than ever before, and a side effect of quarantines and lockdowns was the need to carve out spaces within the home to spend a little time solo. Seating areas, reading nooks and conversation areas have become bigger for bedrooms, and in 2021 the trend is only likely to grow.
Transformational relaxation spaces, with floor cushions and similar soft furnishings, are an excellent way to make use of bedroom space that could serve dual purposes. Not only does it make the room feel cosier, but it means the bedroom itself has a purpose during the day – as well as at night.
Technology Additions
Smart technology is everywhere in the home, and the bedroom is no exception to that rule. From mounted smart TVs to speakers and even smart lightbulbs, technology has become a mainstay for many bedrooms. Over time, it has become more subtle and less obtuse, allowing for easy interior design without spoiling the look with trailing wires or brushed metal all over the place.
For creating atmosphere, LED strips and lightbulbs provide a practical way to change the mood in seconds, transforming bedrooms into places of relaxation – while a TV is the best way to catch up on Netflix while getting the most out of your beautifully designed room.
Painted Flooring
While carpet certainly has its place in the bedroom, one trend we've seen in 2020 is painted floorboards. While many homes choose to restore floorboards in living and kitchen spaces, bedrooms are getting the same treatment across the UK.
Classic blacks and whites top the list for painted floorboards, while softer tones, greys and even bold brights are also popular. Throw a neutral rug on top to finish the look, and you can make your flooring into a statement that a ceiling or wall paint job simply can't achieve.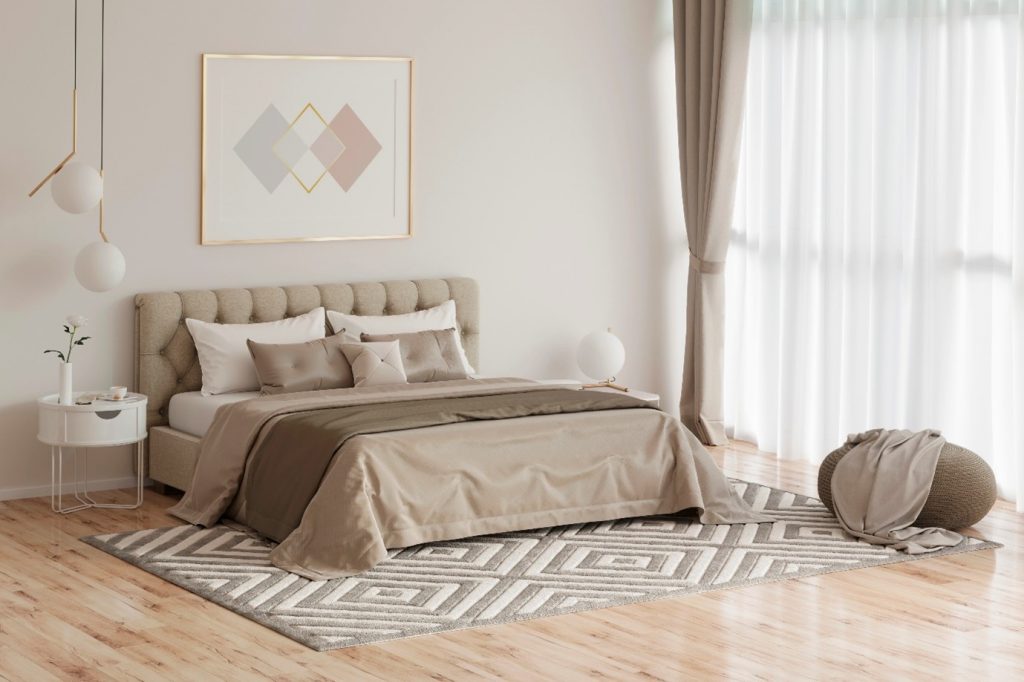 If you're looking for the latest fitted bedroom furniture Cumbria homeowners can depend on to suit any bedroom design, Panararmer is the company for you. Get in touch today to find out how we could transform your bedroom with on-trend, built-in bedroom storage that looks great and does all you could ever need it to.